Small Enough to Listen, Large Enough to Deliver
Jan 7, 2016
"Small Enough to Listen, Large Enough to Deliver" – This is the tagline for a construction company whose site I ran across some time ago on the internet. There was something about this message that made it personal, relevant and compelling enough that I copied it in my ever-present daily planner. The message of this tagline is the strategy that IAACU wants to communicate through our products, services and interactions.
As the staff and board of IAACU consider the future of this institution one point stands firm; our desire to greatly esteem the relationships our team has with our members. Some of our members don't make strong connections with our staff, they just use IAACU to meet their general banking needs – and that's alright. But there are others who see us as an extension of their family; we have contact with them almost daily. We help these members balance their accounts, give them financial advice and share in their personal triumphs and challenges. Both these groups know that if they have questions or suggestions, we are "small enough to listen" and we will carefully consider their requests.
Often I am asked "If you want to retain your small institution relationships why do you pursue growth in assets?" This is where the second piece of the statement occurs; "Large Enough to Deliver." The answer is economies of scale, the economic principle of cost advantages due to size, output and scale of operations whereby efficiencies are increased as fixed costs are spread out over more assets managed. As IAACU's assets grow we have greater opportunity to take advantage of larger scale opportunities which return larger rewards for our members.
It is our responsibility as a not-for-profit financial cooperative to return earnings to our members in the form of better returns on savings, lower rates on loans and lower fees.
The cooperative structure remains intact regardless of our credit union's asset size; the tradeoff seems to be that bigger institutions give better returns and smaller institution offer service at a more personal level. It is our strategy to do both through innovation, professionalism and an extensive knowledge of both our industry and our members.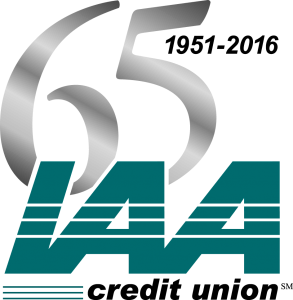 In October of 2016 IAACU will celebrate 65 years of service to our members. The original intent of IAACU as stated in the bylaws drafted in 1951 remain true today: "to promote thrift among our members and to make loans to our members and to do and perform such services and acts as are granted and allowed by Credit Unions."
As we look back on the past 65 years, we salute those whose vision and hard work founded the IAA Credit Union as well as every one of you for choosing to use us as your financial institution. Because of you, we've grown to more than 15,500 Members; $216,100,000 in Assets and $149,700,000 in loans. As we continue to grow we are committed to the idea of "small enough to listen, large enough to deliver."
We sincerely appreciate your membership and continued support!