Valentine's Day Dinner!
Jan 12, 2016
Valentine's Day is right around the corner! Do you know what indulgent dishes you are going to cook your sweetheart or loved one? If you are looking for the ultimate romantic recipes, you have come to the right place. These two recipes are simple, super delicious, and won't break the bank. Sometimes the most memorable token of affection is spending time in the kitchen cooking something homemade together. Finish the meal off with a delectable chocolate dessert and you have the perfect dinner!
Happy Valentine's Day!
Terri
Grilled Peppered Beef Fillets with a Mushroom Wine Sauce
2 (10-ounce) Beef Fillets
Cracked Black Pepper
Kosher salt
Extra Virgin Olive Oil
Mushroom Sauce:
1 Tbsp. Olive Oil
8 Oz. Cremini or Button Mushrooms
1 Garlic clove, minced
3 Oz. Cabernet Sauvignon Wine*
3 Oz. beef stock
1 Tbsp. fresh thyme
2 Tbsp. butter
Salt & pepper
For the beef: Roll the fillet in salt and pepper and rub olive oil on it. Grill to desired degree of doneness.
125º: Rare:
125º: Medium Rare
145º: Medium
150º: Medium Well
160º: Well Done
For the mushroom sauce: In a skillet with oil, sauté the mushrooms until tender. Add garlic and continue for about 1 minute. Deglaze skillet with cabernet wine and reduce by ¾. Add beef stock and reduce by ½. Add thyme and finish with butter. Season with salt and pepper to taste.
*If you don't want to use the Cabernet Wine just add extra beef stock.
Twice Baked Potato Casserole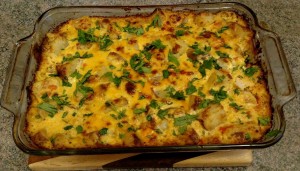 6 medium unpeeled potatoes, baked and slightly cooled (400 degrees for 50 minutes)
½ lb. bacon, cooked and crumbled
1 lb. cubed Velveeta
¾ Cup Hellman's mayonnaise
½ Cup sour cream
½ Cup of milk
2 green onions, chopped
Cut potatoes into 1 inch cubes. Mix all ingredients together. Bake 35-45 minutes at 375 degrees. And Enjoy!
Let us know if you tried the recipe! What worked for you?