Cooking with the CU: Souper Bowl Sunday!
Feb 4, 2016
Are you ready for some football? Every year around the beginning of February football fans are waiting for the biggest day of the year, Super Bowl. Many of you might not know but Super bowl Sunday is the second- largest day of food consumption in the United States other than Thanksgiving so since the big game is fast approaching, don't leave your Football fans deflated this year. Game day means two things: Lots of cheering and lots of good eats. Try out these delicious recipes that will warm your guest's heart and soul. I have been making these Italian Beef sandwich's for almost 30 years now and I have never found another recipe that has been able to take its place. My Italian Beef recipe is literally one of the simplest recipes that delivers enormous flavor, feeds a crowd and will be a huge hit with your friends and family. Put your crockpot to use by fixing it and forgetting it until the party starts. Make sure to keep this recipe on hand because you will have many requests for it.
Italian Beef Sandwiches
4-5 lb. Roast (Chuck or Rump)
2 Envelopes of dry Good Seasons Italian Dressing mix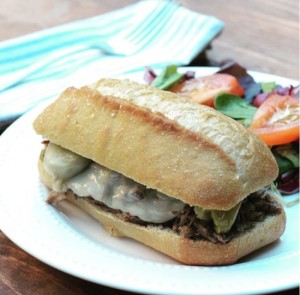 1- 14 oz. Can of Beef Broth
Small jar of Pepperoncini Peppers with juice (Stems removed)
2 Tbsp. Italian Seasoning
1 Tsp. Onion powder
1 Tsp. Garlic powder
Put roast in crockpot and add the remaining ingredients.
Cook on high 6-7 hours or on low 8-10 hours until fork tender. Shred and put back in the crockpot for an additional half hour to soak up all the juices.
Serve on crusty bread or toasted hoagie rolls.
Makes 10-12 Servings
Serve with sweet or hot peppers, sautéed onions and green peppers or your favorite kind of cheese.
Chicken Tortellini Soup
This soup has all the comforting qualities you want in classic chicken noodle soup but with the unexpected twist of cheesy, tender tortellini. This is another recipe you can cook and then put in a crockpot to stay warm all day long during the big game. The Rotisserie chicken and ready-made tortellini makes this soup a snap to prepare so you do not miss any big game-time moments.
6 C. Water
3 Cans (10 ¾ Oz) Chicken Broth
1 Can Cream of Chicken Soup
1 Medium Onion, diced
2 Carrots, sliced
2 Cloves garlic, minced
½ Tsp. dry Basil
½ Tsp. dry Oregano
2 C. Cooked Chicken, diced (Can use Rotisserie chicken from the deli)
1 -7 oz. Frozen Cheese Tortellini or 8 Oz. Pkg. of refrigerated Cheese Tortellini
Salt/Pepper to taste
(I have also add Velveeta or Cheddar Cheese to make it into a cheese soup –Very Good)
Bring to water, chicken broth, soup, onion, carrots, garlic, basil and oregano to boil.
Simmer uncovered for 30 minutes.
Add vegetable, chicken and Tortellini. Simmer another 10-15 minutes.
Add Broccoli, Spinach or Kale for a nutritious and great flavor.
Tortellini Tomato Soup with Italian Sausage and Spinach
Recipe provided by Kim Lewis, Plastic Card Representative
Here is a tomato soup that is taken on a whole other level and a "Must" make. This is more of an Italian version of a tortellini soup that is super delicious. Serve with some crostini or a baguette to dip in the soup and you will have a meal in itself.
1 Tbsp. vegetable oil
1 lb. Italian Sausage
1/2 cup diced onion (about 1/2 medium sized onion)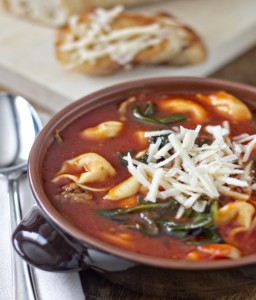 1 tablespoon minced garlic
1-28 oz. can crushed tomatoes
1-32. oz. box of vegetable broth (chicken works too)
2 tablespoons fresh chopped basil
1 teaspoon salt
1/2 teaspoon pepper
1 package tortellini
1 cup packed fresh spinach
Heat a large, heavy bottomed pan over medium-high heat. Heat vegetable oil and add diced onion. Sauté until onions are soft.
Crumble Italian Sausage and garlic with the onion. Cook until sausage is no longer pink.
Stir in crushed tomatoes, vegetable (or chicken) broth, basil, salt and pepper. Bring to a boil, reduce heat to low, and cover. Let soup simmer for 20-30 minutes.
Add tortellini and spinach and simmer for about ten minutes, until pasta is tender.
Serve with shredded Parmesan.
Super Bowl Fun Facts:
Approximately 1.25 billion chicken wings were eaten last Super Bowl Sunday
3.8 million pounds of popcorn, 11.2 pounds of potato chips, 8.2 pounds of tortilla chips and 79 million pounds of avocados were also consumed last year
Average number of people at a Super Bowl Party is 17
Roman numerals are used in the Super Bowl because the football season falls into two calendar years
Every year there are 72 footballs used for the Super Bowl. There are more than 700,000 footballs purchased for the NFL each year