America Saves Week: A Reality!
Feb 29, 2016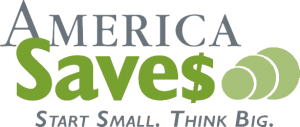 You may have heard some of the buzz last week around America Saves Week (#ASW). Running each year since 2007, the week is an opportunity for institutions promote good savings behavior and a chance for individuals to assess their own saving status. There are six main focus points for the 2016 America Saves Week. As your preferred financial institution, IAA Credit Union wants to help you learn to save, so we've provided you with some of the America Saves Week information as well as some of the tools IAACU offers to help make your savings dreams come true.
1. Save Automatically
As the all-encompassing theme for this year's America Saves Week, setting up automatic savings is the easiest way to streamline your monthly or bi-weekly savings. By setting up savings right from your paycheck, you save money without forgetting to make your transfer. America Saves provides a great supplemental article for information about how you can save automatically, why it works, and what to do if you don't seem to have enough to save.
The IAA Credit Union can help you set up automatic savings. You can set up an automatic schedule transfer through Online Banking, or you can set up payroll deduction by contacting us at 309-557-2541 (only if your paycheck comes from the family of companies).
2. Assess Your Savings
You're told you need to save money, but how do you know if you're saving enough? America Saves provides a great online tool to assess your savings so you can get a better view of your full financial picture. Not only does the tool help you assess your savings, it also helps to give you tips for better money management, including links to additional resources depending on your situation.

Remember, the IAA Credit Union's online MoneyRep always has articles on money tips. In addition, IAACU partners with GreenPath, a non-profit company that works with you to achieve your financial goals. They provide services like free financial counseling, debt management plans, reviewing your credit reports, and much more!
3. Save for Retirement
Saving now for retirement will ensure you have enough money to live comfortably and be prepared for possible medical expenses, traveling, etc. America Saves recommends participating in a work-related retirement program and/or opening up a Roth IRA. Are you already saving for retirement? Then set a goal for yourself to save an additional 1%!
Many don't realize the IAA Credit Union can help you save for retirement as well. With a variety of IRA Accounts, IAACU can help provide risk-free investment options for your retirement needs.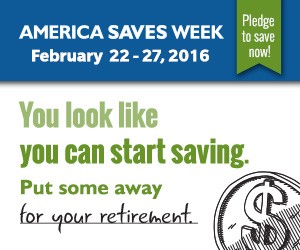 4. Save for Emergencies
Rainy day/emergency funds consist of a small amount of money, usually in a savings account that isn't accessed easily. Saving for emergencies is easy, as it starts with small, regularly scheduled contributions that build up over time. America Saves gives you 54 Ways to Save Money, and by implementing just a few of them, you can make up enough to get your emergency fund going.
The IAA Credit Union has a fantastic variety of savings accounts you can use for your emergency funds, depending on your goals. Beyond the standard savings account, you can put your emergency funds in some traditional savings type accounts or ones that discourage deductions, like CDs and Club Accounts! Setup is easy, and they're all linked to your regular accounts, so setting up that small, regularly scheduled contribution is easy!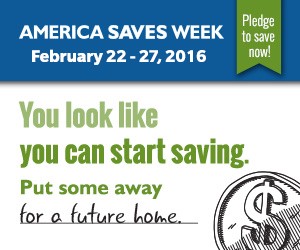 5. Save at Tax Time
Saving a portion or all of your tax refund can be a big step toward meeting your savings goals. This tax season, you can get ahead quickly by putting your tax refund directly into savings. According to America Saves, many people see their refunds as a gift from the government (when realistically, you've just already paid it via taxes taken out of your paychecks), but if you get a refund, it can provide a convenient opportunity for you to kickoff working toward your savings goals.
6. Pay Off High-Interest Debt
With planning, discipline, and patience, almost anyone can reduce their debts and start to accumulate wealth. America Saves provides a great article with additional resources on how you can get out of debt.
Have additional questions on ways IAACU can help you save each month? Our New Accounts team can help you learn more about savings accounts, and one of our certified Credit Counselors can help you find ways to manage your debt and expenses. Check out our website at www.iaacu.org or give us a call at 309-557-2541 to learn more.