Congrats Rachel!
Mar 4, 2016
BIG congratulations to Rachel Haworth-Smith for her recent promotion in the IAA Credit Union!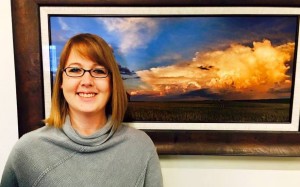 We are excited to announce that Rachel was recently promoted to a Mortgage Loan Specialist in February of 2016.
This is actually Rachel's second stint with IAA Credit Union, as she was a teller at IAACU for 2 years before moving to Tennessee. When she moved back 4 years ago, we couldn't pass up the opportunity to make her part of the team again. She is a fantastic asset to IAACU! Being a part of the teller line for six years made for an easy transition into her new position.
Rachel's largest goal in her career is to continue to grow within IAACU. Joining a new team in a totally new position is always exciting, and Rachel has expressed this, especially for the opportunity to expand her banking knowledge further into other departments. Rachel will definitely be bringing lots of hard work and ten plus years of banking to her new department!
What she claims as years ago, Rachel attended Western Illinois University to study nursing, and ended to Bloomington where she began working as a teller. Rachel is a mother of four rambunctious boys, all under the age of fifteen, so she definitely has her hands full at home. When Rachel does have free time, she likes to read Romantic Drama books and Thrillers by authors such as Nicholas Sparks and Dean Koontz. With her family, Rachel also loves to go fishing, camping, and just loves being outdoors in general.
When asked what she will miss most about being a teller, Rachel mentioned that since she's no longer at the front lines of IAACU, she won't be able to see our members' smiling faces. On the flip-side, she's looking forward to helping members in a new way – with their real estate loans! Lastly, Rachel expressed how she will miss having lip sync battles with the other tellers while business was slow. Please help us welcome Rachel as our new Mortgage Loan Specialist!