Easter Ideas for Those on a Budget
Mar 17, 2016
Put it all together, and U.S. consumers will spend an anticipated $16.4 billion on Easter baskets, eggs, chocolate bunnies and the like.
But you don't have to be a statistic. Minimize the amount you'll be spending and maximize the amount you'll be saving with these budget-minded Easter ideas.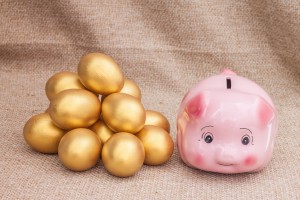 When sales multiply like rabbits
Spring and Easter deals are so abundant in the days leading up to April 5 that you absolutely shouldn't settle for anything less than a sale. Whether you're looking for jellybeans for Tommy or colored eggs for sister Sue, there's bound to be a discount event for you.
Check your favorite retailer for ongoing promotions. Here are a few to get you started:
Rewards? Sweet
If you're a member of a retail store rewards program, use your membership to score the makings of a great festivity for less. If you aren't currently a member, you may want to sign up, as many programs are free to join and can yield substantial savings.
Members of CVS pharmacy's free ExtraBucks Rewards program, for example, will find lots of discount opportunities this season. Easter deals include buy one, get one 50% off on premium chocolates from select brands and 25% off egg decorating kits and Easter home decor. Plus, members who spend $15 on any Hallmark cards, Easter toys, gifts or plush animals will receive $3 ExtraBucks Rewards to use toward a future purchase.
Spring for homemade
Decorating for Easter can be costly, but it doesn't have to be. Consider do-it-yourself craft projects for a novel and affordable touch at your party. Use items you already have – paper bags as Easter baskets, for example – and don't forget to check websites such as Pinterest for a little inspiration.
Hunt for bundles
Don't have time for DIY? Consider purchasing your Easter supplies in bundles. If you're crunched for time, opt for pre-filled Easter eggs and/or pre-filled Easter baskets.
For example, the Cinderella Easter Basket at discount superstore Wal-Mart is $10. The Disney-inspired package includes a coloring book, crayons, fuzzy puzzle, bubble set, jellybeans and candy characters.
Along with bundles, buying items in bulk can also save money. At 1-800-Flowers, for instance, two are better than one. Shoppers who purchase two or more gifts from the site's exclusive Easter collection can save 20% on their order of $59.98 or more. Enter coupon code "BUY2EASTER" at checkout.
Keep it practical, peeps
While you're shopping for Easter, keep practicality in mind. If you're throwing a holiday bash, pick party supplies that you can reuse in the future. If you're filling an Easter basket for your son or daughter, add in some necessity products that you'll likely have to purchase in the future anyway.
Courtney Jespersen is a staff writer covering personal finance for NerdWallet. Follow her on Twitter @CourtneyNerd and on Google+.
© Copyright 2015 NerdWallet, Inc. All Rights Reserved