Welcome Chad
Mar 29, 2016
Please help the IAA Credit Union welcome Chad Johnson to the systems team!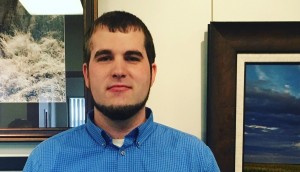 We have long awaited Chad's arrival to the systems department! Even though you might not see or work with Chad on a daily basis, you will be able to sleep at night knowing he is helping keep our systems secure. Chad began on March 14th, as a Systems Support Technician. He will be aiding our systems team in keeping our systems running, supporting employees with all their technical issues, and backing up our servers. Chad completed his Bachelor's Degree in Computer Science (focus on Systems Networking) at Robert Morris College. Chad came to us with a background as a field engineer at STL, which is a firm that provides managed Information Technology (IT) services
Chad is homegrown and has resided in Bloomington, IL his entire life. He has been happily married for three years to Cora, who is a Developmental Math Teacher at Heartland Community College. In his free time, he enjoys remodeling his house, socializing with friends, and traveling! If he had to choose a favorite place to travel it would be Colorado were he appreciates hiking, viewing the scenery, and visiting the parks
Chad is most excited about working at IAACU because he can focus on perfecting one IT network instead of many. To him, it is a welcome change from working on multiple systems in his previous positions. He believes he can bring a variety of knowledge to the systems team and hopes to continue advancing in systems roles. We are sure thankful to have him!