Going home....to the Land of 10,000 Lakes
Jun 20, 2016
Last week was Administrative Assistant Annette Reagans last week with us. Annette has only been with us for a short time, but she has made a huge impact on how we go about our daily work. She's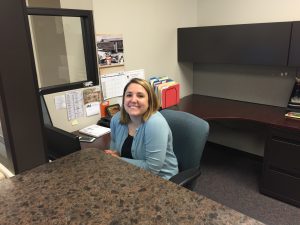 also taught us many Minnesotan sayings that we had never heard. Ever heard of dip vehicles? Yep, that's the little things you use in dip, like chips! She's also one of the most organized people I have ever seen. She's always calling, emailing or knocking on your door to make sure your task has been completed, because most likely her tasks have already been completed.
Annette will be going back where she grew up. Her plans are to start a new job with her family business at Becker Building & Remodeling. There, she will be involved in many aspects of the business, including;
Web Design
Marketing Strategies, Design and Social Media
Earning her AKBD (Associate Kitchen & Bath Designer) license
Software Manager
Supplier relations
Assist in designing and the new office location
We sincerely wish Annette good luck in her future endeavors. She will be greatly missed.