Give Me Some of That Lovin in the Oven...
Jun 24, 2016
Casseroles are quintessential comfort foods that can be prepared as an all-in-one dish meal. They are great when hosting a family get together, a potluck or just serving a quick weeknight dinner. There is nothing better than the smell of a bubbling hot casserole that is right out of the oven. The good thing about casseroles is that they freeze well, can serve many people and are budget friendly. You can pull them out of the freezer the night before to thaw. When you get home just pop it in the oven and you'll have dinner ready in an hour or less! Make a salad to go with it and you have a meal that would satisfy anyone at your dinner table.
Hope you take the time to try these delicious casseroles! Thanks Kathy for these great recipes!!!
Terri Ommen
Chicken Spaghetti
Recipe was provided by Kathy Blue
1 large rotisserie chicken/or 3-4 chicken breasts
1 stick of butter
1 cup chopped onions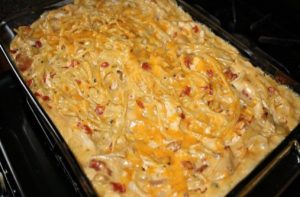 1 cup chopped celery
1 Lb. Box of thin spaghetti
4-5 cans chicken broth
1 can of cream of chicken soup
1 can of cream of mushroom
1 can Ro-Tel tomatoes
2 Lb. of Velveeta cheese
Salt and Pepper to your tasting.
Boil spaghetti in chicken broth, drain, save broth, you may use it. While it is boiling, Melt 1 stick of butter, put in chopped onions and chopped celery and cook until tender in large skillet or pot.
Shred chicken in small pieces.
Mix all the other ingredients in the onion/celery mixture. ADD the chicken.
Now add the cooked spaghetti, and if it's too dry, ADD some of the broth that was used to cook the spaghetti.
Bake at 350 degrees until it is all melted and it is bubbly on top. Usually 45 minutes.
**Terri's two cents
If you want a spicy twist on it, use the Mexican Velveeta.
If you prefer a lighter version, try using the fat free soups.
Steak 'n' Shake Chili Mac
Recipe was provided by Kathy Blue
2-3 pounds of lean hamburger
1 large onion-chopped fine
2-12oz. bottles of "BROOKS" Rich and Tangy ketchup
2 cans of Ray's "Coney" island hot dog sauce (By the chili in the grocery store)
3-4 Tbl. Brown sugar
3- Tbl. Vinegar
1-large can of "BROOKS" chili hot beans in sauce
Fry up the hamburger-drain if there's any grease. Add onions and rest of ingredients, let simmer a while, and serve over thin spaghetti.
Makes a lot, so I freeze a few containers to have on hand, and all I have to do is boil some spaghetti.
Enjoy!
**Terri's two cents
In order for it to taste the same you have to use the name brands that are listed on the recipe.
If the hot chili beans are too spicy for you, try using the mild chili beans.