Do you crave those fresh salads in the summer…….
Jul 28, 2016
Here are a few salads that will become a staple on your menu. You can go to the Farmers Market or just go to your local grocery store and pick up all of the fresh picks of summer. These recipes will appeal to either the health conscious person or someone who is a meat and potatoes eater like my husband. Salads are the perfect way to gather up all of your favorite vegetables in one bowl. Just remember there is a rule of thumb for mayonnaise based salads. According to the FDA "Stick to the two hour rule" for leaving items out at room temperature. If the temperature is above 90 degrees don't leave the salad out for more than one hour. Another tip for keeping your salads cool is to put some ice in a large bowl and sit the salad bowl on top, that way you ensure safe temperatures.
Hope you enjoy these recipes and have a great summer!
Terri Ommen
Grape Salad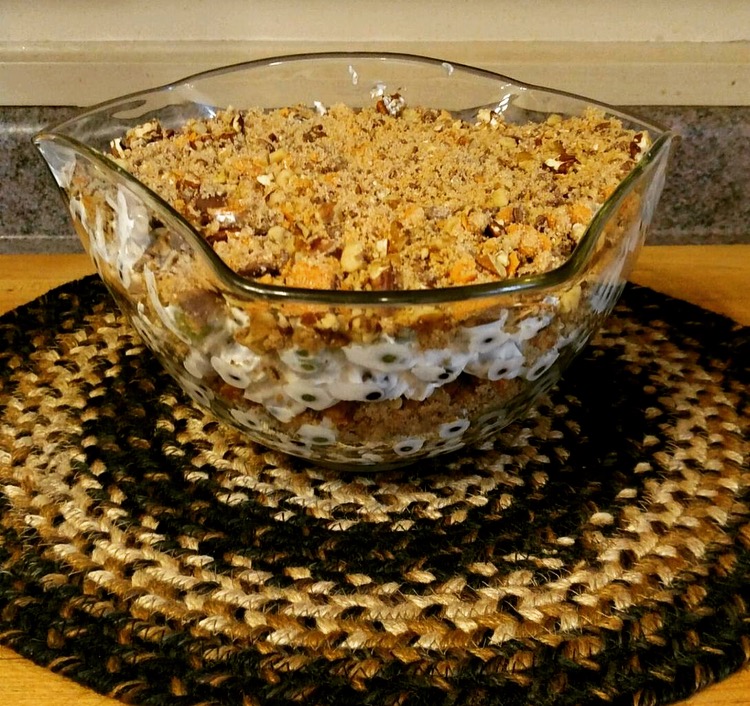 3-4 cups red grapes
3-4 cups green grapes
8 oz. cream cheese (softened)
½ cup sour cream
½ cup whip topping
½ tsp. cinnamon
In a large bowl, blend cream cheese, sour cream and whip topping. Fold in washed and dried grapes and set aside.
½ cup chopped walnuts½ cup chopped pecans
¾ cup brown sugar, packed
½ cup heath bar bits (you can find in the baking isle)
½ cup chopped Butterfinger candy bar
In a separate bowl, mix nuts, brown sugar and candy pieces.
Put half of the grape mixture in a bowl and sprinkle half of the topping over it. Repeat one more layer of each. Refrigerate until ready to serve.
Terri's 2 cents:
Make this lighter by using light cream cheese, sour cream and whip topping.
Add diced apples to take it over the top.
BLT Pasta Salad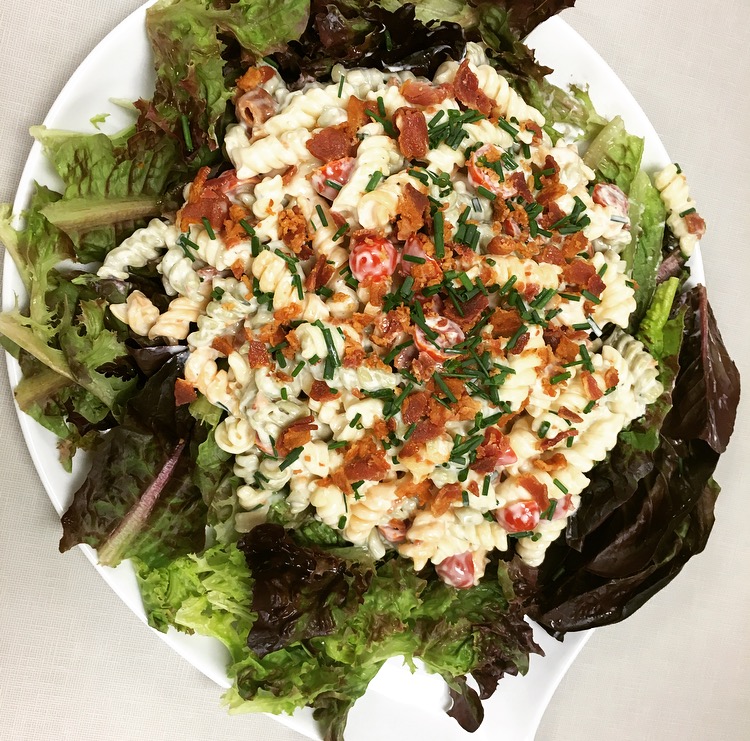 12 ounces corkscrew shaped pasta (any pasta will work)
1 1/4 cup of Miracle Whip
1 Tbsp. white vinegar
1 Tbsp. sugar
1/2 cup milk
I Lb. bacon, cooked and crumbled
½ -1 pint grape tomatoes, cut in half
3 Tbsp. chopped fresh chives
1 head of Leaf lettuce
Cook pasta in a large pot of salted water according to directions.
Mix the remaining ingredients in a bowl except ¼ cup of bacon and 1 Tsp. chives. Season with salt and pepper. Put lettuce down first on a plate then top it with the pasta salad. Garnish with remaining bacon and chives. Refrigerate for at least one hour before serving.
Terri's 2 cents:
Use spinach or Bibb lettuce in place of leaf lettuce.
I have also used Marzetti's cole slaw dressing in place of the Miracle Whip, vinegar, sugar and milk and it is great that way also.
Spinach Salad with Strawberries
For candied pecans:
3 cups of pecans (only need 1 cup for the recipe)
1 egg white
1/3 cup sugar
2 Tbsp. cinnamon
½ tsp. season salt
1/8 tsp. cayenne pepper
1 Tbsp. water
Preheat oven to 250 degrees. Beat egg white until very frothy, but not stiff. Add nuts; toss to coat. Add spice mixture together in a small bowl. Add to nuts: toss to coat the nuts evenly.
Spread nuts in a single layer on a lightly greased baking sheet. Bake 45 minutes stirring every 15 minutes.
Cool slightly and break apart. Store nuts in an airtight container for up to two weeks. These nuts are well worth the work. Delicious!!
For the salad:
6 cups of fresh spinach salad, washed and dried
2 cups strawberries, sliced
¾ cup red onion, thinly sliced
7 slices of thick bacon, fried and crumbled
For Dressing:
1/3 cup balsamic vinegar
¾ cup olive oil
2 tsp. brown sugar
1 Tbsp. chopped garlic
Salt and pepper
Beat vinegar in a bowl with the sugar, garlic, salt and pepper until sugar dissolves. Beat olive oil in slowly and whisk constanstantly.
Terri's 2 cents:
There are a lot of ingredients but it is well worth it. If you don't want to make the dressing use a store bought balsamic vinaigrette or Ken's Light Raspberry Walnut Vinaigrette is also good on it. Can also make individual salads instead of one big salad for a week night dinners.
The nuts make a lot but you will not be able to stop snacking on them!