A Little Taste of Heaven…Sensational Desserts!
Aug 23, 2016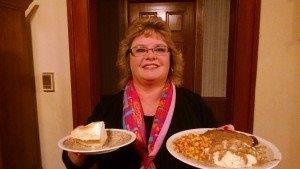 If you are looking for amazing dessert recipes, look no further. Here are three desserts that will take your taste buds over the top and become a staple in your recipe collection. These are elegant enough that they can be served to your family, friends or even if you're having a dinner party. There is hardly any prep involved and you are sure to get compliments from these delectable homemade desserts.
Thank you Brandi and Lynnsey for providing these amazing recipes!
Hope you all enjoy!
Terri Ommen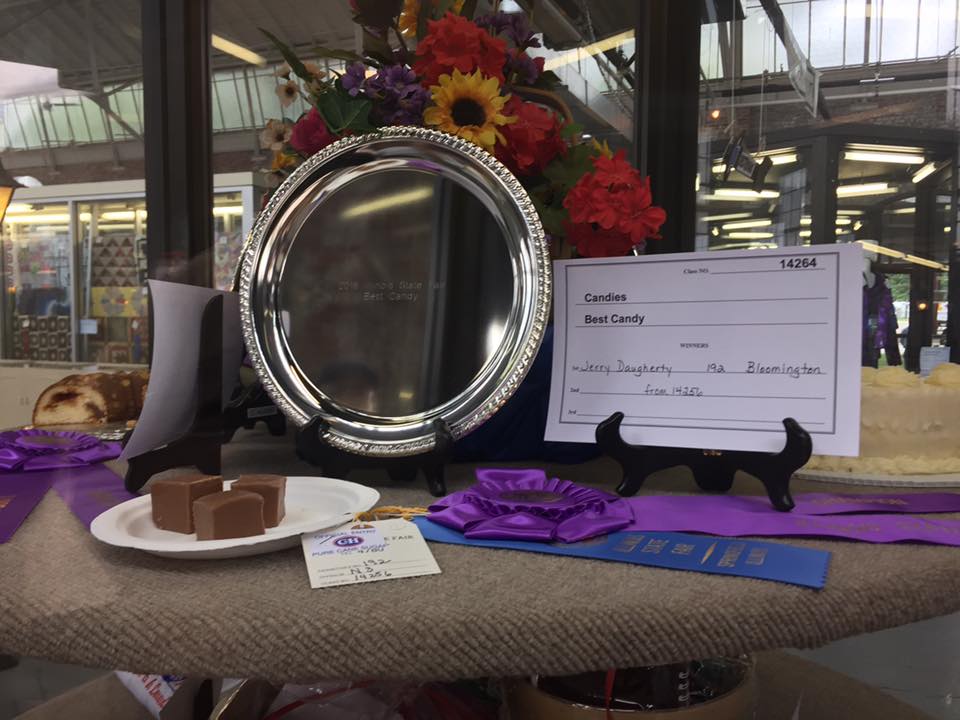 2016 Illinois State Fair Best Candy- Mint Chocolate Fudge
Recipe provided by Jerry Daugherty IAACU Member - Brandi Feger's Father
Member Development Rep
This is my Dad's recipe that he won the Illinois State Fair's Best Candy. He has been making fudge for years and we have always thought it was great. He started taking a few things to the State Fair a couple years ago. Each year we have tweaked the recipes for the next year. Finally this year it paid off! I am extremely proud of my dad and cannot wait to see how he does next year!
Ingredients
3 Cups Sugar
1 1/2 Sticks Unsalted Butter
7 oz Condensed Milk
12 oz pkg of Mint Chocolate Chips (Nestle)
1 Jar Marshmallow Cream
1 tsp. Vanilla
Instructions
Put butter in Sauce pan and melt over med flame
When melted add condensed milk and sugar
Bring to boil stirring constantly for 5 min
If you drop a little of the mixture in to ice water it should form a soft ball
Then add Marshmallow stir until it smooth then add Vanilla
When well combined pour in to buttered or parchment lined 8x8 pan
Cool and cut in to squares.
Brandi's Two Cents
This recipe can be found on the side of the marshmallow cream jar. You can change the flavoring depending on what kind of chocolate you use.
Lemon-Berry Tartlets
Recipe provided by Lynnsey Otto
Member Services Rep
Ingredients
2/3 cup(s) sugar
1 Tbsp lemon zest
2 large egg(s), whisked
1/2 cup(s) fresh lemon juice
2 Tbsp salted butter
1 cup(s) fat free whipped topping
30 item(s) mini phyllo shell(s)
3/4 cup(s) fresh blueberries
Instructions
Place sugar, lemon zest and eggs in a heavy-bottomed sauce pan; set over medium heat. Whisk constantly until mixture is combined and warmed through, about 3 to 4 minutes. Add lemon juice and butter; cook, whisking constantly, until slightly thickened and bubbly, about 4 to 5 minutes. Cool to room temperature and then refrigerate until thoroughly chilled and thickened; once chilled, fold in whipped topping until just combined.
Preheat oven to 350°F.
Place prebaked phyllo shells on a cookie sheet; bake until crispy, about 5 minutes. Let cool and then spoon about 2 teaspoons lemon mixture into each shell. When ready to serve, garnish each with a berry. Yields 1 tartlet per serving.
Lynnsey's Two Cents:
You can use any fresh berries for the topping.
I buy extra phyllo shells and usually have enough to fill a whole other box (they come in 15 counts), especially if I add a little extra cool whip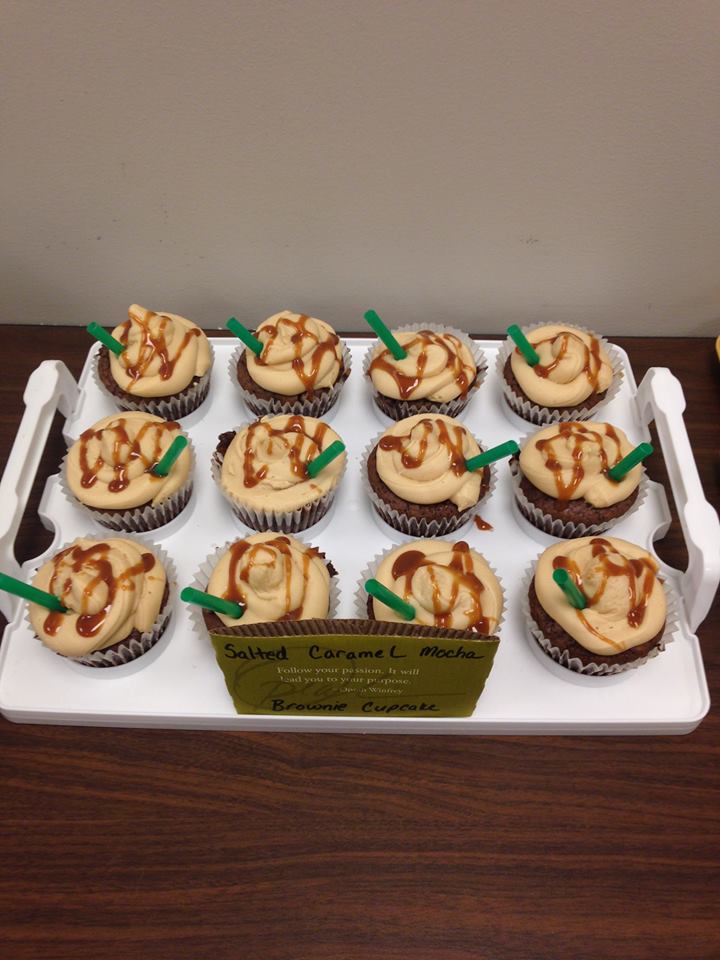 Salted Carmel Mocha Brownie Cups
Recipe provided by Lynnsey Otto
Member Services Rep
Chocolate brownies filled with caramel Hershey kisses and topped with a salted caramel butter cream.
Ingredients
For the Brownies
1 brownie mix (for a 9x13 pan)
2 Tbsp. instant coffee
1/4 c. hot water
1/2 c. oil
3 eggs
15 caramel kisses
For the Buttercream
1 c. butter
1/2 tsp. vanilla
1/2 c. caramel ice cream topping
1 tsp. sea salt
4 1/2 c. powdered sugar
1 tsp. milk
Instructions
For the Brownies
Preheat oven to 350*. Dissolve the coffee in the water. Mix the brownie mix, coffee water, oil and eggs until just moistened. Fill cupcake liners 2/3 - 3/4 full. Bake 22-24 minutes or until a knife inserted in the center comes out with a few crumbs on it. Cool in the pan for 3 minutes, and then press a caramel kiss into the center point first. Cool 5 more minutes. Carefully remove to a wire rack and cool completely. Frost with Salted Caramel Butter Cream. Drizzle with extra caramel and sprinkle with more salt. Makes 15 brownie cups.
For the Buttercream
Stir the sea salt into the caramel topping and set aside. Cream the butter and vanilla for 3 -4 minutes. Slowly beat in the powdered sugar. It will be very thick. Pour in the caramel and milk and beat again.
Lynnsey's Two Cents:
I like to use dark chocolate brownie mix.
I also personally cut the butter for the frosting in half. It always looks streaky and doesn't stay that solid. You can always add more if needed, but you can't take it out!