About Our Art... Mikell Duncan
Sep 8, 2016
Mikell Duncan was born in Fairmont West Virginia and grew up mainly in the Washington DC suburbs. As a child, she was always drawn to creating art. In grade school, one of her teachers assigned her a mural to draw instead of a written report. Throughout school, you could always find Mikell in the art department! She studied art for 2 years at West Liberty College in Wheeling, WV. The best instruction she ever had was traveling around the country studying under the artists she admired most. Her career started with oils, but later progressed to gouache, water colors and pastels.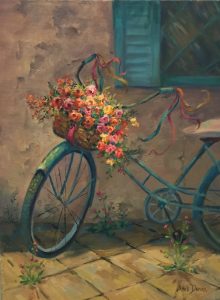 After moving to Illinois, she was given the opportunity to study with Jeanne Ledbetter. When Jeanne passed away, Mikell went on hiatus. But, after being encouraged by Jeanne's former students, she began teaching again and has now been teaching art for over 20 years. She currently teaches in her studio at home near Peoria, Illinois. As an instructor, she tries to teach students theory and techniques while allowing them to develop their own style.
My other passion is flower gardening, so naturally I am drawn to floral and bright colors.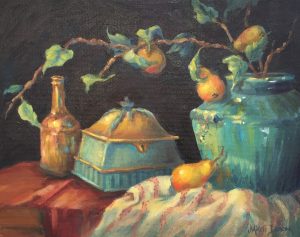 For the past several years, she has been making jewelry. She loves to incorporate old flea market finds with new beads to make jewelry with a romantic feel. Because of the variety of sources, all of her jewelry is one of a kind. She often combines semi-precious gems along with new costume beads for an eclectic look. Resin and stamped solder are some of her favorite elements and often found in her pieces.
As an artist I try to create a world of peace and joy with Jewelry. I always feel putting on a piece of jewelry makes every day special.
Mikell's artwork will be displayed at the IAA Credit Union main lobby at 808 IAA Drive, Bloomington, IL for the months of September and October, 2016.
If you're interested in purchasing one of her works Mikell can be found on Facebook at www.facebook.com/MikellDuncanArt.