Don't Be Fooled!
Nov 7, 2016
Too often, people of all ages receive notification that they just WON money from Reader's Digest, Publisher's Clearing House, or phony lottery…and they JUST need to pay the taxes to collect the prize…. Hearing these stories makes me angry! Scammers, with little to NO dignity, are preying on people's emotions and financial well-being.
That's why we actively participate in training and pursue education for the employees at IAACU. Recently, members of staff have renewed their training or were first-time participants in an important education topic of Financial Exploitation. IAACU partners with a Bloomington-based agency called PATH Crisis Center, a social service organization providing protective services and intervention for people of McLean County and other local areas.
Financial Abuse or Exploitation does NOT discriminate! Financial Exploitation can affect all ethnic backgrounds, social status, men and women.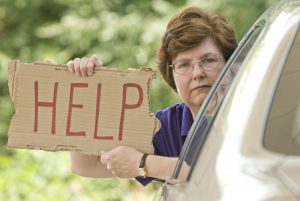 Every day, people fall victim to smooth-talking con artists who call them and tell all kinds of convincing stories to get their money or personal information. Scammers are trying to lure you in with promises of unexpected riches or to scare you and need help preventing a tragedy from happening. If it sounds too good to be true…it probably is. Abusers can be strangers, neighbors, and even friends/family. Anytime someone asks for your bank account number, Social Security Number, or other sensitive information, you should be on high alert. Never give personal information to someone who is reaching out to you…
Most recently, The IRS Phone Scam is an aggressive phone call from people claiming to be from the Internal Revenue Service. Don't by "fooled", the IRS will NOT by seeking information by phone or demanding immediate payment action…Never give personal information to someone you don't know…don't play into their game and JUST HANG UP!. The following communication from the Illinois Attorney General's Office is provided to protect and create awareness on some the most common scams: Fraud_Alerts.pdf
Lastly, here are a couple of other important items to note:
Use good financial practices: Sign up for direct deposit, do not sign blank checks, do not carry large amounts of cash for emergencies, shred credit card offers, burn or shred financial data.
Consider placing your phone number on the National Do Not Call Registry, if you haven't already done so. This will block most unwanted telemarketers.
For cell phone users, add a free white-pages directory app that will help provide information on the incoming call. Don't answer unknown or out of state numbers, most likely scammers will not leave a message.
You can register your home phone or cell phone online at www.donotcall.gov or by calling 1-866-290-4236 from the phone number you wish to register.
If you have fallen victim to or want to report a telephone scam, please contact the Illinois Attorney General's Consumer Fraud Hotline at 1800-386-5438 or Senior Fraud Helpline at 1-800-243-5377.
For more information on Path Crisis Center, please visit their website at www.pathcrisis.org. IF YOU ARE IN CRISIS AND NEED IMMEDIATE HELP CALL PATH AT: 2-1-1 or 1-888-865-990.
If you have any financial concerns and would like to discuss, please feel free to contact IAA Credit Union at 309-557-2541 or toll free: 800-676-2541.