Marc Making: Artists of Marcfirst
Sep 5, 2017
Marcfirst is a local agency dedicated to supporting adults with developmental disabilities. Earlier this year, Marcfirst and University Galleries at Illinois State University collaborated to give these men and women the chance to create paintings, drawings, and other forms of artwork.
During a series of workshops, Marcfirst Arts Coordinator, Iga Puchalska guided the artists through the development of their individual pieces. She states that the Marc Making program focuses on providing a creative environment for the participants.

I think art is this amazing tool of self-expression and communication, and many of the artists don't communicate verbally. They communicate through their paintings and drawings.
While participating in the workshops, the artists gained confidence in their artwork. Everyone involved, from the artists, to the Marcfirst staff and gallery volunteers, were proud of the work that was created through the partnership.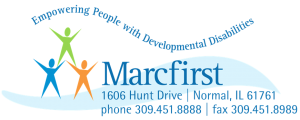 We hope that you get the opportunity to view the Marc Making: Artists of Marcfirst artwork that will be displayed in the IAA Credit Union main lobby at 808 IAA Drive, Bloomington, IL during the months of September and October, 2017.