Appetizers Anyone?
Oct 27, 2017
Fall is here and it's the perfect time of year to serve appetizers to a crowd! For football season, you need delicious tailgating food. Try serving a new appetizer after each quarter to keep it fun and interesting. Or, the next time you're sitting around a fire with your friends enjoying the weather, serve them a small plate of appetizers. It's a great way to get a little taste of a variety of foods. Don't forget they're also great for holiday parties! After all, a party is only as good as the food you serve!!!
Hope you will give these delicious appetizers a try for your next party!!
Enjoy!!
Terri Ommen
Crab Stuffed Mushrooms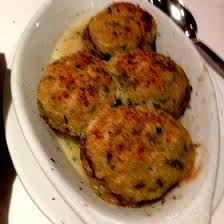 Ingredients:
-1 lb. Fresh Mushrooms, cleaned
-4 Oz. Cream Cheese
-6-7 Oz Crabmeat (Can use in can. Just make sure to drain)
-2 Green Onions, chopped
-¼ C. Parmesan Cheese, grated
-¼ C. Monterey Jack Cheese, shredded
-1/3 C. Hellman's Mayonnaise
-¼ tsp. Hot Pepper Sauce (I use Frank's but you can use your favorite one)
-2 Tbsp. White Wine (Optional)
-Paprika
Recipe:
In a medium bowl, combine cream cheese, crabmeat, green onions, cheeses, mayonnaise, hot sauce and wine (optional).
Wipe mushrooms clean with a damp towel. Remove Stems and spoon out gills.
Fill the mushroom caps with rounded teaspoons of filling and place them in an ungreased shallow foil pan. Sprinkle top with paprika.
Cover with foil. Grill over medium-heat for 12 -15 minutes or until mushrooms are tender and bubbly.
Terri's Two Cents:
**Can also cook in the oven at 350 in a shallow baking dish for 12-15 minutes.
**You can also use light Cream Cheese for the recipe.
PIZZA STUFFED JALAPENO POPPERS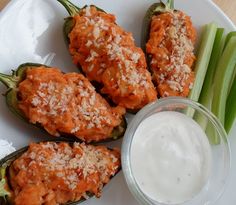 Ingredients:
-15 Jalapenos, cut in half and seeded
-1 lb. Sweet Italian Sausage, cooked and crumbled
-4-5 Mushrooms, finely chopped
-4 Oz. Cream Cheese
-½ C. Cheddar Cheese, shredded
-½ C. Monterey Jack, shredded
-Pizza Sauce
Recipe:
Preheat oven to 375 degrees
Line your baking sheet with parchment paper or aluminum foil.
Combine the sausage, cream cheese, mushrooms and 2/3 cup of the cheese together.
Using your hands, mold the sausage cheese mixture into each jalapeno half.
Pour the pizza sauce over each one and top with remaining Cheese.
Bake for 15-20 minutes or until jalapeno is no longer crunchy.
Terri's Two Cents:
**You can also put in a foil pan, cover with foil and put them on the grill to heat them up.
**Can also use Pepperoni, Canadian Bacon or a combination of meats. You can use any kind of meat that you like. You can also add onions or green peppers if you like them.
Twice Bake Potato Bites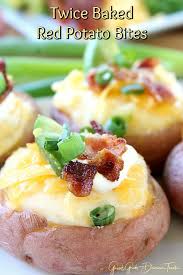 Ingredients:
-2 Tbsp. Olive Oil
-1 Ib. Baby Red Potatoes (about 14-16)
-2 Tbsp. Butter
-2 Tbsp. Sour Cream
-1 Oz. Cream Cheese
-2 Pieces of bacon, cooked and crumbled
-½ C. shredded Cheese (any kind such a Cheddar, Colby Jack or Monterey)
-2 Tbsp. Milk
-1 Green Onion, sliced or 2 Tbsp. fresh chives
-Salt and Pepper to taste
Recipe:
Preheat oven to 400 degrees
Scrub the potatoes and dry them. Prick each potatoes a couple of times with a fork to let the steam escape.
Toss the potatoes in the olive oil and place on a baking sheet. Bake for 30 minutes or until tender. Cool slightly
Reduce oven to 350 degrees
Using a sharp paring knife, slice the top off of each potato and use a small spoon or melon baller to scoop potato out and add to a mixing bowl. Leave about ¼ of the potato shell. This will keep the form of the potato.
Add the butter, sour cream, cream cheese, crumbled bacon, ¼ cup shredded cheese, milk and salt/pepper.
Mix until potato mixture is smooth and then stir in green onions or chives.
Scoop the mixture into the hollowed out potato with a spoon or put the potato mixture in a quart size bag and snip the corner of the bag. Mound up on top and top with remaining cheese.
Bake until cheese is lightly browned and the filling is warmed through, about 15-20 minutes.
Terri's Two cents:
**You can use light sour cream and cream cheese