Inspiration for a Healthier Lifestyle…
Jan 30, 2018
For many people, healthy eating is a chore…but it doesn't have to be! There are so many delicious recipes out there that your whole family will enjoy. The key is to make sure that you are making nutritious choices and use fresh ingredients. If you make recipes from scratch, you will avoid the processed stuff and you'll be giving your family good, honest home cooking! Here are a few recipes that will help you stay lean, fit, and live a healthy life style. You won't feel deprived anymore when you include these great dishes into your go to meals.
I hope you enjoy these delicious recipes!
Terri Ommen
Buffalo Chicken Meatballs
Recipe provided by Emily Griffin/Supervisor, Accounting and Compliance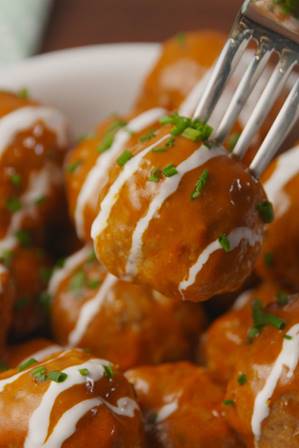 Ingredients:
1 pound lean ground chicken
1 egg
½ cup panko breadcrumbs
1 carrot
1 stalk celery
2 green onions
½ tsp. garlic powder
¼ tsp. salt
1 ounce crumbled blue cheese
½ cup Frank's Hot Sauce
1 Tbsp. butter
Recipe:
Preheat oven to 350 degrees
Line a cookie sheet with foil and coat with nonstick cooking spray.
Cut the carrot, celery and green onion into large chunks and throw in a food processor. Pulse to chop into small bits.
In a large bowl, combine, the vegetable mixture, chicken, egg, breadcrumbs, garlic powder, salt, ½ the hot sauce and the blue cheese. Gently fold to combine but don't overmix.
Form the mixture into small meatballs-you should get about 28 small meatballs. Place the meat balls on a cookie sheet and bake for 20 minutes.
While the meatballs are baking, put the rest of the hot sauce and the butter in a microwave safe dish and microwave for about 30 seconds, until butter melts. Stir well to combine.
Remove meatballs from the oven and allow to cool for a few minutes. Place the meatballs onto a serving dish and drizzle with remaining butter/hot sauce mixture.
Enjoy……..
Lone Star Steakhouse Salmon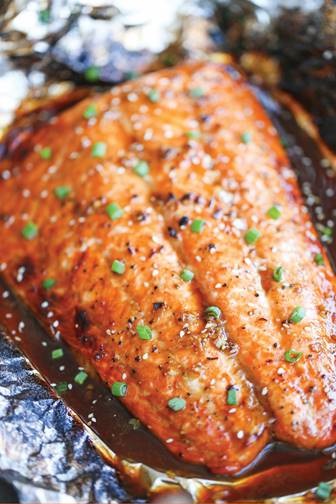 Ingredients:
Marinade:
¼ C. pineapple juice
2 Tbsp. soy sauce
2 Tbsp. light brown sugar
1 Tbsp. bourbon (Optional)
¼ Tsp. cracked black pepper
1/8 Tsp. garlic powder
¼ C/ vegetable oil
Salmon:
2 8-ounce salmon filets
2 Tsp. snipped fresh chives
Recipe:
Combine the pineapple juice, soy sauce, brown sugar, bourbon, pepper and Garlic powder in a medium bowl. Stir to dissolve the sugar. Add the oil.
Be sure all of the skin is removed from the salmon. Place the filets in a shallow dish and pour the marinade over them, saving a little back to baste when you cook the fish. Put a lid over the fish and refrigerate for at least an hour. Two hours is even better.
Preheat your grill over medium/high heat. Cook the fish for 5 to 7 minutes per side or until each filet is cooked all the way through. If you like it more pink just cook for a few minutes less. Regularly brush the fillets with the leftover marinade.
Arrange the filets on each plate with the chives sprinkled over the top.
Serves 2
Terri two cents:
You have to try this recipe if you like Salmon. It is an excellent recipe!!!
Pork and Pineapple Stir-Fry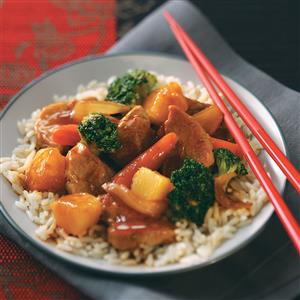 Ingredients:
1 can (8 ounces) unsweetened pineapple chucks, un-drained
3 Tbsp. Cornstarch, divided
1 Tbsp. plus ½ cup cold water, divided
¾ tsp garlic powder
1 pork tenderloin (1 pound) cut into thin strips
½ cup low sodium soy sauce ( Can also use regular soy sauce)
3 Tbsp. brown sugar
½ tsp ground ginger
2 Tbsp. canola oil, divided
4 cups fresh broccoli
I cup fresh baby carrots, cut in half lengthwise
1 small onion, cut into wedges
Hot cooked rice
Recipe:
Drain pineapple, reserving ¼ cup juice: set aside. In a small bowl, combine 2 Tbs. cornstarch, 1Tbs. water, garlic powder and 1Tbs reserved pineapple juice. Pour into a large resealable bag; add pork. Seal bag and turn to coat.
In a small bowl, combine the soy sauce, brown sugar, ginger, remaining water, cornstarch and reserved pineapple juice until smooth; set aside.
In a larger skillet or wok over medium-high heat, stir fry pork in 1 Tsp canola oil until no longer pink; remove and keep warm.
Stir-fry the broccoli, carrots and onion in remaining oil until tender. Stir cornstarch mixture and add to pan. Bring to a boil; cook and stir for 2 minutes or until thickened. Add pork and Pineapple; heat through. Serve with rice.
6 servings
Terri's two cents:
You could add bean sprouts, water chestnuts or any vegetable(s) that you like to make it even more delicious. I have made this many times and it is a great go to meal for a fast week night dinner.