Unclaimed Property - **Important Update
Feb 16, 2018
Reporting Changes in 2018 & Unclaimed Property 101
In 2017, the Illinois Treasurer's Office passed several key changes to the state's unclaimed property laws to reflect the current Uniform Law Commission (ULC) suggestions. It's been 56 years since the last change; Illinois' previous unclaimed property law was passed in 1961. The new changes take effect November 1, 2018.
There are several key changes in the new act that affect IAACU and our members:
Previously, businesses were required to send letters to the owners of unclaimed property for any property valued at $10 or more. This has been updated to only require letters to be sent for property valued at $50 or more. IAACU will send letters to all members that are considered to have abandoned property, regardless of the value.
Abandonment reporting is now required after a three year period instead of the previous five year period. This year, IAACU's reporting will include accounts with last contact date prior to June 30, 2015 and we will be required to report on November 1, 2018.
There are new abandonment rules for certain types of property, such as securities, retirement accounts, pre-need funeral trusts, college savings accounts, and others. Health Savings Accounts will continue to be reported as well.
The Illinois State Treasurer and the Illinois Department of Revenue will automatically return many properties to the legal owner if valued at less than $2,000

without

filing a claim.
Unclaimed Property becomes lost if a financial institution is not able to communicate with the owner. You should contact all institutions that hold your money or property every year—especially when there is an address change, change in marital status, or a phone number change. For security reasons, most financial institutions do not forward mail.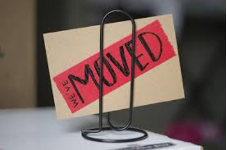 Keep your contact information updated! It's your money!
We try very hard every year to prevent funds from being transferred to the state. If you need to change your contact information, log in to online banking and fill out the change of address form. If you do not have online banking, call the Service Center at 309-557-2541 or Toll Free at 800-676-2541 to hear other options.