About Our Art- Refreshing Places
Jul 3, 2018
Karen Gyllin is an artist from Bloomington, IL. After retiring from teaching in 2005, she has been able to focus on pencil drawing, watercolor painting, and printmaking full-time. Karen has created an exhibit entitled "Refreshing Places" and is devoting it to showing her watercolor paintings.

During the past several years, Karen has been particularly interested in depicting water as it appears in nature. She has become fascinated with the unique shapes, lines, and colors created by sunlight and movement on the water.
The work chosen for this exhibit tells a lot about what's made me happy and refreshed over the past eight years.
As with many artists, Karen has found many inspirations during her travel experiences. She has interpreted the mountains of Alaska, the lush greens of the rain forests in Oregon, and the waterfalls, cliffs, and sand dunes of several different bodies of water. She is looking forward to adding the colors of Sedona, AZ to the list very soon!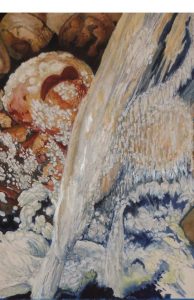 Karen has shown her work at several local locations– Main404 Gallery, the McLean County Art Center, and ISU Benefit shows. She is also a frequent exhibitor at The Next Picture Show in Dixon, IL.
I certainly have enjoyed my experiences in connection to creating each piece, and I hope that you'll see some that you enjoy too!
To learn more about Karen's work, please contact her at: [email protected].
Karen's artwork will be displayed at the IAA Credit Union main lobby at 808 IAA Drive, Bloomington, IL for the months of July and August, 2018.