Living the IAA CU Mission
Jan 23, 2019
IAA CU QUICK FACTS Data as of 12.31.18
HQ: Bloomington, IL ASSETS: $252.4 Million MEMBERS: 16,525 12-MO SHARE GROWTH: 4.67% 12-MO LOAN GROWTH: 0.67%
The IAA Credit Union's mission is to "Build Financial Relationships to Enrich Members' Lives." This statement is important because it articulates the purpose of this institution to our team, to our members and to the community. Our mission helps our team to see the purpose in the work we do and drives us to offer innovative products and services that meet our members' need for value.
Consider the new IAA CU Savers Club
as an example of our commitment to enrich our members' financial lives. This product joins our Vacation and Christmas Clubs to offer easy and convenient ways for our members to save for life events. We developed this product because, according to the Federal Reserve Survey of Consumer Finances, the median saving of Americans under the age of 35 is only $2,000. It's hard to weather unforeseen expenses, get dependable transportation or put a down-payment on a home with a savings balance of $2,000.
The Savers Club is designed to make it easy to set aside regular contributions, which grow quickly, due to no monthly fees and a great interest rate. The goal of this Club is to get you to SAVE, so until the account exceeds $1,000 there will be a $5 penalty for any withdrawal. Once you have more than $1,000, you can take withdrawals without penalty as long as the balance does not dip below that minimum. Once you have reached the maturity date, chosen by you when the account is set up, you will receive a notice with options to either withdraw the funds or roll it over and continue saving.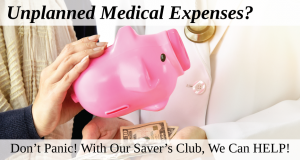 Please go to www.iaacu.org to find out how the IAA CU Savers Club could help you or someone you know get started saving.
Thank you for your continued support and membership!