Too Old for Back-to-School Sales? Think Again!
Aug 14, 2019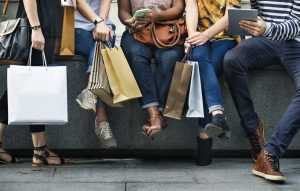 You may not be on the market for a graphing calculator, and you probably needed a permission for field trips when you last needed a glue stick. Though you may not be shopping for "school supplies," you may in fact find yourself in luck this back-to-school season!
Take advantage of deals on home goods, clothes, shoes, electronics, and yes, even school supplies (even if you now call them "office supplies"). Want to get even more bang for every buck? Apply for our Rewards Visa. With every dollar you spend, you earn 1 point!
Office Supplies and Electronics
Whether you want a new computer or to refill that cup of No. 2 pencils, you can find discounts on both high and low-tech office gear.
Electronics. Check out Walmart and Office Depot for deals on computers, laptops and tablets that are available to everyone. Compare costs for the specific item you're eyeing, and take advantage of these stores' price-matching policies. You'll likely find deals on smaller electronics and accessories, too, such as earbuds and earphones, flash drives, portable speakers and more!
Office supplies. Have kiddos that need some supplies for school? Check out our article on Tips to Spend Less this School Season. Have an office to spruce up? Look for sales on notebooks, folders, binders, pens, pencils, highlighters and just about any other office supply at Office Depot, Target and Staples. Pro tip: Don't forget to check out the dollar section at Target!
Home Goods
As summer ends, there are a lot of summer discounts that pop up for college students getting ready to head off to school. You can grab these deals on furnishing your home, and you won't even have to share with a roommate.
Bedding and towels. If you need new bedding and don't want to wait until Black Friday rolls around, now's your chance! At Bed Bath & Beyond, for example, comforters, sheets and duvet covers are on clearance. This time of year, there are also great deals on fluffy new towels, rather than those raggedy bath towels you've been meaning to replace. Kohl's, for example, is selling some bath towels, hand towels and beach towels for under $10.
Storage and organization supplies. At Target, Kohl's and other retailers, look for sales on closet helpers, such as shoe organizers, hangers and laundry hampers. Keep an eye out for storage supplies, too.
Clothes and Accessories
You can find "great deals and promotions" on clothes this time of year. Those back-to-school sales usually include adult sizes, and items like jeans have become more office-appropriate (especially on causal Fridays).
Shoes and clothes. You can find sales on jeans, clothes, shoes at Kohls, Target, Walmart, and other retailers!
Backpacks and lunch bags. If you're still lugging around the same backpack that held textbooks, it may be time for an upgrade. Look for discounts on backpacks, as well as insulated lunch bags, at Office Depot, Macy's, Kohl's and other retailers.
Take advantage of these prices, but don't let them lure you into buying fistfuls of pens you don't need. Before you go shopping, whether it's for notebooks or laptops, always take stock of what you have at home first!