17 Tips to Throw a Kid's Budget-Friendly Birthday Party
Sep 4, 2019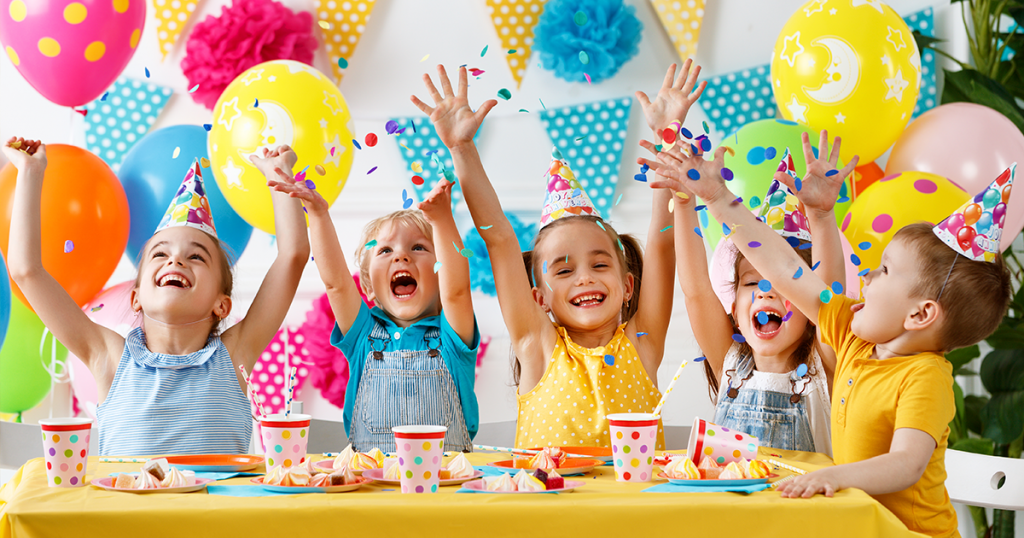 Did someone say Happy Birthday? Don't break the bank to throw a party worth remembering. With a little creativity and do-it-yourself mindset, this budget-friendly bash will be the talk of the town. These 17 tips and tricks will help you plan a party that's cost effective, innovative, and FUN!
Create a Budget
Birthday parties can be overwhelming when thinking about the investment aspect. Not only are you investing in a party, but in memories to be made. Rather than spending a small fortune once a year, it's wise to consider how much you would like to spend in total. Decide on a reasonable budget and stick to it! Account for the number of people coming, the cost of a cake, whether you'll be serving food, cost of balloons, decorations, activities, entertainment, and location, as well as the gifts you give. As purchases are made, keep track of expenditure. If you're writing things down, it will be easier to track how well you are staying within budget.
Think Ahead
Rather than waiting until the last minute to prep for a party, try to plan a few months in advance. If you begin shopping for supplies early on, you can hunt for specials and sales. Thinking ahead will also prevent the need to run out at the last minute to buy overpriced items you have forgotten. Even when you're not in party-planning-mode, keep an eye out for sales on party items that you can use in years to come. Target, Dollar Tree, and the 99-cent store are great for spotting cheap fun party supplies.
Go Digital
Many parents still send out paper invitations, and while the formal tradition of sending invites via snail-mail can be appealing, e-vites a sure hit. Electronic invites are easily accessible, free to send out, and they immediately notify the parent or family member of the event. No more waiting for the mailman to deliver your invites! With an electronic invitation you will save the investment on printing and postage.
Host at Home
If sticking to a budget without breaking the bank is a top priority, resist the temptation to take the party elsewhere. Indoor amusement centers and excursions can cost upwards of $200 and $300. Save big bucks by having a home party! With a bit of time and decorations, your living room, garage, or even basement can become the party space of your dreams!
Find an Inexpensive Venue
If your house isn't a viable party location option, don't give up and set your sights on an expensive venue. A few great substitutions for the home are the neighborhood park, a rented shelter with picnic tables, or grandma's backyard. There may be a small deposit to rent a shelter, but the cost will be a fraction of a pricey venue.
Another great option is to go to a movie as a group. Some theatres will let groups use their party room for free, with the purchase of movie tickets. Most theatres will also let you bring in your own cake and decorations, really shrinking the out-of-pocket costs.
Bowling is another great option, as the lane fees are low, and the kids will have hours of entertainment. A word of caution, however: some bowling alleys have arcade games and claw machines – the cost of these games can really add up, so make sure whatever you plan, it is accounted for in your budget.
Make your own Décor
Though themed decorations from party stores can be fun, they are priced accordingly. Don't feel intimidated by the thought of making your own decorations! A do-it-yourself attitude will not only save you money, but also create a sense of pride and accomplishment in your little one if you let them help as well!
Seek Help
Rather than trying to do everything on your own, think about your connections and community resourses. Whether it be a friend in the police force, a neighbor that fights fires, or a family member who can paint faces, outsource free entertainment by asking those you have built relationships with. Does your neighbor have a trampoline, a baby pool or a bouncy house they'd let you borrow for the day? Don't be afraid to ask! If you are planning to have the guests eat dinner, make the event a pot-luck. Rather than stressing over the coordination and party planning as well as the meal, have everyone bring a contribution. Every penny counts!
Theme Therapy
Decorations centered around a movie, cartoon character, or a game can be fun, however they can also be overpriced and throw budget plans out the window. Rather than overspending on branded items, purchase the generic version of the supplies instead. For example, a 'Moana' party could have ocean and beach themed items, with a foil balloon to display their favorite princess. For a 'Lion King' themed party, go for a jungle or animal print theme, and purchase a Simba foil balloon to display the king of the jungle.
Embrace Free Fun
Not every party needs a hired hand to entertain the kiddos. Rather than a clown or a Disney princess, you can organize some fun games such as freeze dance, musical chairs, freeze tag, duck-duck-goose, simon says, pin the tail on the donkey (or pin the tail on the lion – back to that 'Lion King' theme) or even have a round of competitive hide-and-seek.
Minimize the Guest List
If staying at home isn't something you'd like to do, and you'd prefer to throw a party at a fun venue, try to avoid inviting everyone you know. When there's a smaller group to host, there is more wiggle-room in the budget!
Timing is Crucial
When thinking about what time to schedule your party for, think about what time you'll want to have company. If you plan a party that goes from 11 or 12, your attendees will expect lunch to be served. If you plan for 5, people will expect dinner. Choosing a time that falls in-between or after meal times, guests will not expect a full meal – better for the budget!
Party Favor Fun
Parents, you may find yourself throwing money out the window when preparing goodie bags. Even when parents invest an arm and a leg in the party favor, kids typically lose interest in their gift quickly. Instead of trinkets, consider sending guests home with a take-home activity from the party. When the activity (such as candle making, rock painting, or ty-dye t-shirts) is something they spent time on, they will be more likely to keep them, and projects like this save you dough!
Too Young? Opt Out!
Though you may be tempted to skip past this bullet point all together, think about why someone throws a celebration. Is it because you want to show off your child, or is it because you want to make memories with your child? If they are too young, why waste the money on something they won't remember? One suggestion would be to take your little one on a picnic to celebrate. Take a few cupcakes, and make memories that aren't clouded by the stress of planning and spending money on a big party.
Sharing is Caring
Though you think sharing a party and attention may be a hassle, throwing a joint party for more than one birthday boy or girl can save tons by splitting costs and combining party activities. It's not only half the responsibilities, but twice the fun! Just one recommendation: each child should have their own cake!
Order Online
Shopping online isn't always a cheaper option but browsing online does make your party planning a bit easier. Surfing the web is good for saving time, keeping impulse buys to a minimum, and keeps planning all in one place. A great tool is to go online and search on Etsy for pre-prepared party packages. These convenient bundles make your planning easier, and your budget happier! Another great time and money saver is purchasing a downloadable image file for invitations and thank you letters, rather than hunting for and investing in paper supplies.
Beware Party Store Prices
Don't fall for party store traps! Rather than buying candy and your party supplies all in one place, browse around! Look for candy at big-box stores, where prices are nearly half the price. Target's dollar section, Dollar Tree, and discount stores can offer low prices that party supply stores won't.
Regift Reuse and Recycle
If you hate receiving and purchasing supplies for goody bags, think about recycling! Rather than throwing candy and trinkets from other kids' parties, store them in a box for when your kiddo's birthday rolls around, and then use those trinkets and candy to fill a pinata! This is a double hitter, as the pinata acts as an activity, and the fillings serve as a take-home favor!