How to Pick a Tablet that's Just Right
Dec 12, 2019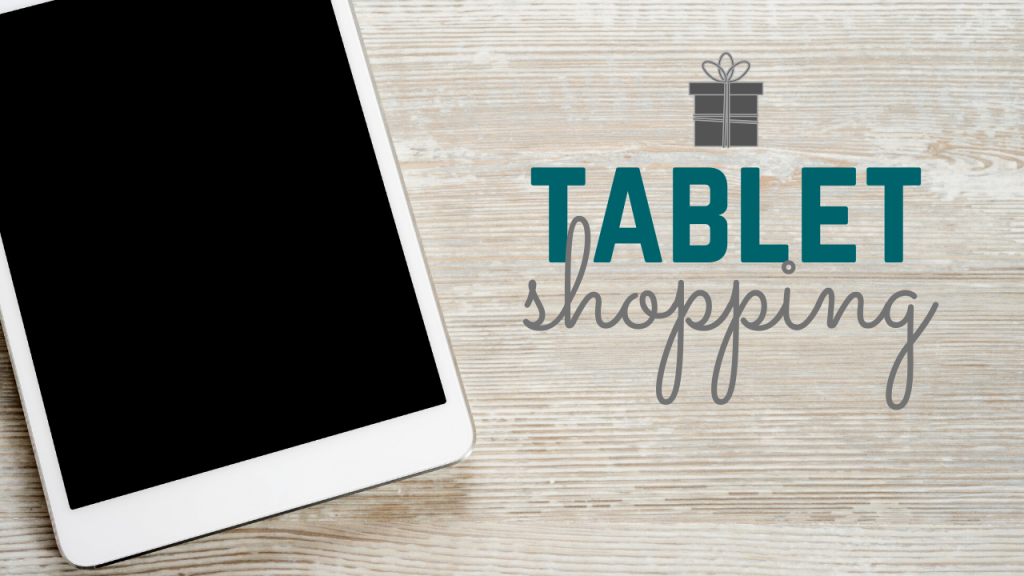 There is a sea of electronics when shopping for a tablet, whether it be for you or someone else. It can be overwhelming when deciding on a purchase as pricey as this. There are a few ways to figure out what tablet is best for you. What will you be using it for, what other devices you use and love, how much money you have to spend, and how big you'd like the screen to be (if you think this matters). Find out what tablet is best for YOU!
What would you be using it for? Are you looking for something to play games on, work from home, complete puzzles, read, stream movies, or draw? Every tablet has its own strengths, and so do you.
For the Gamer – iPad or Galaxy Tab A
The Apple app store has the widest variety of games, offering both free and paid options. There is also a range of sizes, varied for desired use. The iPad Mini is great for travelling gamers, and the new iPad is great for those looking for ample screen space. The Galaxy Tab A has a better price point, it is affordable while retaining most of the quality.
For the Professional – Surface Pro or Lenovo Tab P10.
Both the Surface Pro and Lenovo Tab P10 are wonderful for the business men and women in the world. They are streamlined, have keyboard additions available, and have good battery life.
For the Reader – Nook GlowLight Plus or Kindle Paperwhite
The Nook GlowLight is waterproof, has auto-brightness adjustments, and a big screen with adjustable text size makes this the perfect tablet for readers! The Nook also has page-turning buttons, which makes flipping to the next page a breeze. There is also a Nook app that allows you to pick up where you left off- on any device! Another option is the Kindle Paperwhite. The Paperwhite is also waterproof, brightness adjustments, and adjustable font sizes. The Paperwhite, however, lacks a page-turning button.
For the Artist – iPad Pro with Apple Pencil
The iPad Pro is a wonderful option. Though they are on the pricier side of the spectrum, they have incredible specs and impressive tech. This tablet is also compatible with the 2nd gen apple pencil – the best on the market. If you have an artistic desire or family member looking for a tablet with artist capabilities, this is the tablet for you
For the Traveler – iPad Air
This is the perfect portable size but doesn't slack on image quality or specs. This travel-size tablet (1st gen apple-pencil compatible) is great for those who are always on the go.
For the Streamer – iPad Pro 12.9
The iPad Pro 12.9 is the best big tablet around. It has incredible resolution and has a stunning 12.9-inch display. One major drawback is its price-point. If you've got a good budget, and you want to get the best on the market, this tablet is the one for you.
For the Little One – Kindle Kid's Edition
Kindle "Kid's Edition" comes with protective case, 2-year warranty, and includes a Fire for Kids subscription. Its long-lasting battery and durability make it a clear choice when shopping for a little one who likes to read.
What other devices do you use and love? If you're used to using an iPhone, you would probably fall in love with an iPad or iPad Pro. If you are a windows lover, you will most likely gravitate towards an amazon Kindle Fire or a Microsoft Surface Pro. A different operating platform will not necessarily affect the quality of the device, but compatibility between devices will be better if they are from the same manufacturer.
iOS – iPad Mini, iPad Pro, iPad Air
Android – Samsung Galaxy Tab S5e, Samsung Galaxy Tab S6, Fire HD 8,
Windows – Surface Pro/Surface Go/Samsung Galaxy Book
Does size matter? If you're looking to watch movies or complete an essay on a tablet, a larger screen would be beneficial, but keep in mind that the larger screens are less portable, and heavier on the shoulder. Tablets vary in size, ranging from around 7 inches to nearly 13 inches. Focus on what you will be using it for and think about what size phone or computer you are comfortable with – this will give you an insight as to what size tablet will be best for you.
How much are you willing to spend? Price varies on Tablets due to many different factors. With iPad, you are not only paying for the great specs, but the brand as well. Price also varies by size, memory size, camera quality, and display resolution. Also keep in mind, any extras will be additional charges to budget for. Also remember that memory can be added post-initial purchase, so keep the price lower by giving a tablet with lower integrated storage. Not prepared for this year's Holiday season's expenses? Apply for a Personal Loan today! Also, avoid making the same mistake next year! Open a Christmas Club account today! Save at a higher interest rate and worry about gift-giving no more!
Disclaimer: IAACU does not promote or support any of the above-mentioned products or companies.