Five Financial Lessons from the Pandemic
Oct 19, 2020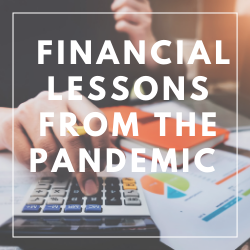 How are you managing the realities of the continued COVID-19 crisis? To help gain perspective during these difficult times it can be helpful to step back, reflect, and take some time to make a plan for moving forward.
From managing unexpected interruptions in income to prioritizing monthly expenses, our partners at GreenPath Financial Wellness have come up with the top 5 lessons members have learned.
1. Prioritize your bills
When the crisis hit, many people were unsure what bills needed to be paid first. Making sure your basic needs are met first should be a priority. Examples of these would be rent/mortgage, groceries, medical, etc. For some payments, you may need to contact the lender or utility company to make payment arrangements. If you're struggling to make your loan payments at IAA Credit Union, please contact our Loan Servicing Department for assistance at [email protected].
With careful planning, you should be able to pay your most important bills and possibly even have something left over for emergencies.
2.  Build up an emergency fund, no matter how big or small
No matter how big or small, a "rainy day" fund is the best protection for when the unexpected happens. At IAA Credit Union, we have an account designed just for this purpose. Our Savers Club can help you save for life's surprises a little at a time. You tell us the amount you want to save and for how long, then sit back and watch your account grow! 
3. Modify a budget
Setting a household budget shouldn't be complicated. Just be prepared to modify the plan if something unexpected occurs!
During the current worldwide pandemic, consumers have had to learn how to reallocate their household funds. One area that people have been able to pull from is what they have budgeted for gas. Since travel has been drastically reduced, those funds can be used for other budgeted items. Many people find they reduce financial stress by creating and following a simple budget.
4. Plan for grocery expenses
Make a list and stick to it! Now that we aren't going out as often, it's a good idea to plan your trips to the grocery store. Or even better, use the store pick up option to cut down on impulse buys! With good planning you can stretch out what you buy over several meals and keep your grocery store visits to a minimum.
There's nothing like a crisis to help us stick to our grocery lists!
5. Make it a family affair
Financial struggles are difficult on families. Take advantage of the learning opportunity. Make it a time to bring the family closer by working together. If your child doesn't already have a Dollars and Sense checking account at IAACU, now is the perfect time to open one and start teaching your kids the important life lessons of how to budget and balance a check book. It is the perfect time to help teach kids how to deal with a financial crisis.
We know the last several months have been difficult for everyone, but with careful planning and budgeting you will make it through this uncertain time. We are here to help! Please reach out to us if have any questions at [email protected] or 800-676-2541.