Christmas Club
Oct 23, 2020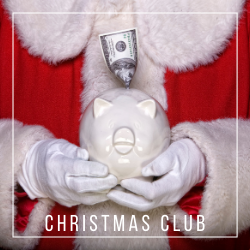 Christmas is just around the corner… Have you ever thought of how to save up ahead of time in order to get all the shopping items on the list for your loved ones? The Christmas Club at IAA Credit Union is the answer to it!

Our Christmas Club is a short-term savings account to help you save up for the holiday season. With multiple options to deposit money into the account, it's easy to stay on track. One way to save is to set up a recurring transfer from your checking account. Whether it's weekly, bi-weekly, monthly, the choice is yours! You can also make individual deposits by either calling our Service Center or coming in to see one of our tellers. Plus, as an option for our COUNTRY, Illinois Farm Bureau, and GROWMARK employee members, we have payroll deduction. You choose the amount, and every paycheck it will get deposited to your Christmas Club account. It's that simple!
Setting a goal and putting a strategy in place is a great way to start saving up for any occasion. One of the added benefits of this account is its flexibility. So, if you encounter any of life's unexpected surprises, no worries you can always use the funds for any unplanned expenses or change the amount you were contributing to a smaller portion.

So, when you start thinking about how you're going to pay for all those gifts, remember that IAACU has a great way to help you save all year long. Plus, since our Christmas Club account disburses in early October, it gives you plenty of time to shop the good deals during Black Friday! Don't miss out …apply today for a christmas club account.