Debt Free for the New Year
Dec 21, 2020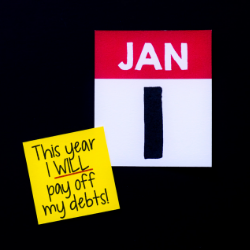 2020 has been a year like something on an episode of the Twilight Zone. If you're like a lot of us, you used your credit cards to pay many of your expenses, and now you're looking at big balances with high interest rates. The good news is, there are ways to pay down your balance and get on the road to becoming debt free in 2021!
It's a New Year, make a New Plan!
We all know it's tough to stick to a resolution. A key difference in those that succeed is creating a plan. The first thing you'll want to do is figure out how much you owe and what you have to work with (how much you make). Make a list of balances due and the interest rate owed for each one. It's also a good idea to include the minimum payments.
Then you'll want to decide where to start. There are two popular approaches to paying off debt. The first is the Snowball method. The idea with this one is to payoff the smallest debt first and work your way up. This option gives you quick wins and may motivate you to keep going. The second approach is the Avalanche method. With this choice, you'll start with the debt that has the highest interest rate. Doing this will save you the most money in interest.
IAACU offers a built-in money tool called Money Management where you can integrant all accounts and set small goals for each category. This tool allows our members to see where their money is going and areas that can be cut back on.
Create a budget that allows you to pay more than the minimums
We know 2020 has been a challenge, but if you're serious about becoming debt free in 2021, making some short-term sacrifices can save you thousands in interest payment.
When you're putting together your plan, try to budget just a little more than the minimum required payments. And if you receive some unexpected cash, put it towards your debt instead of spending it on something new to wear or going out to eat. This will pay down the balance quicker and save you money on interest.
Another thing to consider would be consolidating your debt so that you only have one payment each month. Coming Soon! For a limited time, we are offering two balance transfer options: 1.99% APR* for 6 months OR 3.99% APR* for 12 months with absolutely NO fees! 
Keep track of your progress
Finally, monitor how your plan is going. By keeping track of your balances throughout the year, you'll be motivated to keep working on paying off your debt. And if you feel you aren't making as much progress as you were hoping, you can make some changes to your budget to increase payments.
With a few sacrifices and a good plan, you should be able to reach your target by New Year's 2021!