New Year's Resolutions: Setting Financial Goals for 2021
Dec 28, 2020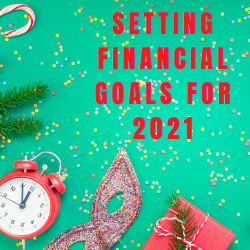 With 2020 ending and January looming around the corner, it is a great time to start making practical financial goals for the coming year. Whether you have been dreaming of saving for a vacation once the world starts to get back to normal or just want to pay down high interest debt and save for retirement, IAACU is focused on helping you meet your goals!
Budget
A new year is a great time to look at your personal finances and either create or make updates to your budget. Creating a written budget is proven to be one of the best ways to cut down on unnecessary spending and save money. Look at your fixed expenses, needs, and wants, then factor in debt. Cutting down on eating out and cooking from home instead can help you put more money away towards your goals!
Consider Investing
If you find extra wiggle room in your budget, it may be a smart idea to consider investing. Putting money away in either a Money Market or a Shared Certificate as known as a CD can be a great tool to save for retirement or any other future goals!
Consolidate Debt
Coming soon! IAACU offers a balance transfer promo that is a great tool to help you break the ties from your high interest credit cards! More information to come this deal.
Plan for a Vacation
Seem to have caught a travel bug while social distancing this year? IAACU has the perfect tool to help you put away a little money every month for when travel bans start to lift, and the world is on the go again! Sign up for an IAACU Vacation Club account and decide what you can budget for a future vacation.
While sticking to a budget can be daunting, you don't have to do it alone. Consider implementing one or more of these tips going in to 2021 to help you stick to your financial resolutions!