Start Off Your New Year with Savings
Jan 11, 2021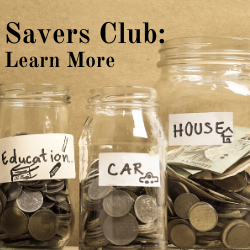 Saving is always a good idea, and there's no better time than a New Year to consider putting more money in your own pocket! A lot of us make New Year's resolutions, and they can be easy to forget about when it comes to the hustle and bustle of everyday life. An IAACU Savers Club Account is flexible enough to not feel limiting, while also providing more structure to your current budgeting tools to help you stick to your resolutions!
While you may already have a savings account with IAA, you may be unaware of the other opportunities we offer to help you save money for a special event or purchase! Our Savers Club is like our other Club accounts, the Christmas and Vacation Clubs, but it works a little different because you set the maturity date.
So, what is a Savers Club account?
A Savers club account is essentially a savings account that earns you a higher interest rate on your deposits with the purpose of saving up for a special event or purchase! You choose the maturity date - typically a year or longer and start funding the account!
Why should I choose a Savers Club account?
The Savers Club is a great option for anyone with savings goals. Because the account has penalties if the money is withdrawn early it can be a good option for someone who typically has a hard time putting money away. A Savers Club account can be great for anyone saving for occasions such as a wedding, baby, house, or car!
Do I have to take my money out at the maturity date?
A Club account is a great opportunity to earn interest on your deposit! With an IAACU Savers Club account, you can put your money to work by earning a higher interest rate on the money you put in. When your account hits its maturity date, you are not required to pull out your money! You can leave it there and allow it to keep earning interest!
It is important to note that there are penalties if money is withdrawn before maturity.
Resolutions can be challenging to keep, especially when it comes to saving! Let IAACU help by providing you the tools you need to make your saving goals a reality.