Password Safety
Jan 28, 2021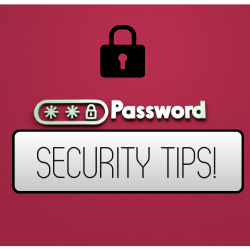 What do you need to know to keep your information secure?
Use strong passwords that are long and contain a mixture of upper-case and lower-case letters, symbols, and numbers! Remember to try not to repeat two characters in a row!

Only use unique passwords! While it can be easier to keep the same password for all your accounts, it is much less secure. Use different passwords for all your accounts so that if one is compromised you can feel sure that the rest are secure.

Change up passwords regularly! Keeping your passwords fresh can be frustrating and may make them harder to remember, but it is of utmost importance in keeping your information protected.
Keep your passwords written down on paper in a safe place! Do not save your passwords on a computer or mobile device and keep the location of your passwords private.
These tips may seem self-explanatory, but if implemented they can help you to keep your private information protected. Be sure that all devices that can be password protected are! Take this as a reminder to check out your passwords and see if you can pass these four safety steps! If they don't it may be time to make some changes!