It's Summer Time!
May 24, 2021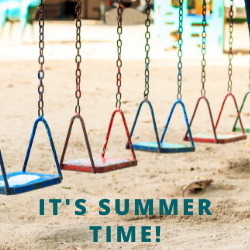 Summer is the perfect time to get active and get out of the house! With school letting out and the weather getting warmer many kids are either spending the summer with a sitter or home by themselves if they are old enough! While it can feel like there is nothing to do and the first option for most kids nowadays is to sit in front of a screen of some sort, that doesn't have to be the case! There is plenty to do this summer in Bloomington Normal to help you & your family stay active... here's just a few! 

In the Community: 
Movie Marathon-Pick out some of your kids' favorite movies and set aside some popcorn and drinks. 

Go see a movie- Several movie theaters here in town offer kid's movies during the day. 
Crafting is always fun!  Look for ideas on Pinterest that you know your kids would enjoy doing.  

Anything outside!  Kids need physical activity and some fun ways to get it can be having a water balloon fight outside, playing basketball in the driveway, a Slip-N-Slide, or backyard baseball. 

Board games-Make sure your kids and babysitter know where all the board games are in the house.  Some games can help teach money management! 
There is always something to do in Bloomington-Normal, sometimes it just requires a little bit of creativity and planning! Implement some of these summer staples into your schedule and make this summer the best one yet!