How to Keep Your Holiday Spending in Check
Nov 3, 2021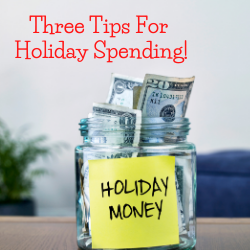 ORIGINAL PUBLISHED BY: DISCOVER MODERN MONEY, ADAPTED BY IAACU
We've got 3 tips to help you plan for your holiday season spending.
It can be easy to get overwhelmed when it comes to a season centered around heightened spending - which inevitably leads to the common New Year's resolution to decrease spending and save money. Consider these three financial tips this Holiday season and get one step ahead on your resolutions.
1. Have a spending plan
The holiday season can be a stressful time of year without a plan. It is important to always keep track of your spending, but during the holidays this importance grows. Having the right tools to implement your plan is also a key to keeping your spending under control, and IAA Credit Union is here to help!
Consider opening an IAACU Platinum Checking account. Then download the mobile app to make managing your spending easy!

Even though celebrations may look different this year, life can still be busy! Take advantage of the ability to remotely deposit checks directly into your Platinum Checking account from anywhere!

Avoid the fees – With no monthly fees or minimum balance requirements, you'll cut down on unnecessary expenses.
2. Have a Budget
Budgets are a key tool to avoid over-spending! It's never too early to get started on your planning for next year by opening an IAACU Christmas Club account! Set your end-of year savings goals, and watch your account grow! This short-term savings account disperses the first Friday in October to ensure plenty of time to take advantage of holiday deals!
The holiday season can bring about unexpected expenses so it is always smart to set aside some extra money in the budget for things that may come up. Having the peace of mind that your Christmas Club account is growing all year can help ease the stress of holiday spending.
It's important to note that while budgets can feel limiting, they can also open your mind to opportunities you did not consider. While presents are nice, they are quickly forgotten. Science has shown that quality time and experiences make people happier both in the moment and in the long run.
Not only is having a budget a key money saving tip for the holidays, it could lead to some creative gift-giving.
3. Consider a Holiday Loan
While it's always smart to try to reduce debt, some years come with unexpected challenges. IAACU offers personal loans with competitive rates and flexible pay back options that can help you take a load of stress off any expense. With quick turnaround times, we'll give you access to the cash you need!
When applying for a holiday loan, keep in mind how much you can handle paying back and what term would be best to fit your monthly budget. Footing the bill for the holiday season can feel like a burden without the right tools, but IAACU is here to help!