Holiday Scams; How to recognize and avoid falling victim to them
Nov 4, 2021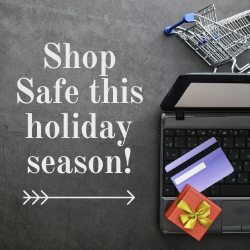 It's that time of year again, you guessed it, holiday shopping season! What does that mean for you and your finances? As with any interactions online, it comes with inherent risks – especially in a year where online shopping is a preferred form of holiday shopping for many. Here at IAACU we pride ourselves in being there for our members and have some tips and tricks to help you steer clear of various holiday scams and identity theft!
Online Shopping & Identity Theft
If it seems too good to be true it probably is.
Everyone loves a good deal, but how can you be sure that you aren't being scammed? Be watchful for copycat websites that may look just like your favorite store that sell items for drastically low prices. Scams can be presented in many ways; thru email, Facebook, and other outlets. When clicking on ads be sure that you never click on a link you don't trust! These scammers typically take your payment and your personal information and never provide goods and services in return. Be sure to check website addresses for misspellings that can indicate that the website may not be trustworthy.
What precautions should you be taking when shopping online?
Regularly update your passwords and never share them!

Only download from trusted websites.

Keep a close eye on your holiday transactions in IAACU's online banking!

Use updated software and anti-virus software.

Double check that websites you are shopping on are truly who they say they are, the BBB is a great resource!
What precautions should you be taking when shopping in person?
Only carry what you need – never carry your social security card, and only carry your ID, one credit card, and your debit card.

When not carrying cards consider a fire-proof safe or lock box!
Be vigilant of gift card fraud
Although gift cards are a great gift, buying and selling gift cards can be risky. Always be mindful of who you are buying from or selling to. Scammers will often sell fake or empty gift cards that look legitimate. IAACU offers members the chance to buy visa gift cards that make the perfect gift and don't run the risk of getting you caught up in a scam.
Keep a close eye on your finances.
The holiday season makes everyone more vulnerable to identity theft. It is important to always be aware of where your important documents are and who has access to them. Online spending is more prevalent than ever this year, and without taking precautions you may fall victim to a newer form of identity theft called form jacking. This form of identity theft happens when cybercriminals hijack your credit card information from online forms when you're making purchases or paying your bills.
Take Quick action if you think you have been a victim of a holiday scam!
If you think you may have fallen victim to a scam or identity theft it is important to act fast to avoid any further ramifications! Pull your credit reports from annualcreditreport.com, and keep a close eye on all of your accounts! If you believe there are any fraudulent charges on your accounts, contact your financial institution and close any accounts that you believe have been opened fraudulently and cancel any cards with fraudulent charges on them. The faster you act and the more precautions you take, the better.
ORIGINAL PUBLISHED BY: GREENPATH ADAPTED BY IAACU