Is there enough in your piggy bank?
Mar 1, 2022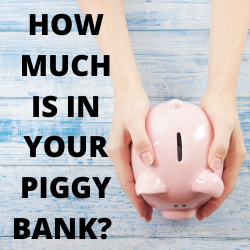 ORIGINAL PUBLISHED BY Nerdwallet, ADAPTED BY IAACU
There is no one-size-fits-all answer to the question of how much money should you keep in your savings account. The standard recommendation is three to six months' worth of basic expenses. If keeping that much stashed away is intimidating to you, we've put together some tips on how to find your target balance and ways to quickly grow your savings.
Find your target number
The first thing you'll want to do is determine how much you need in savings. Figure out how much you typically spend on your most important bills each month and then decide how many months you want to have on hand. Remember to only consider your essential expenses, such as rent or mortgage payments, insurance premiums, groceries, and transportation. A great way to find these is by reviewing your recent bank and credit card statements. Then use a tool such as
Money Management,
to help you track your expenses and break them down into categories.
*When deciding how many months of savings you want to keep, think about how many months it could take to find a new job if you lost yours. You'll want to have at least enough to cover your most essential expenses. You might even want to set a higher target amount to save for optional expenses, such as occasional dining out or entertainment.
Easy ways to grow your savings account
If you don't have the recommended amount of money in your savings account today, start looking for small ways to reduce optional expenses. For example, if you usually go to a restaurant for lunch every day, you could pack a lunch a few days a week. Take the money you would spend on eating out for lunch or other activities and add it to your savings account. You could also take on a part-time job or even turn one of your hobbies into some added income.
To keep on track, our
Savers Club
is a great account to help you save a little at a time. You can schedule recurring, automatic transfers that go straight to your savings account, or the next time you have a little extra "cash" sitting around, use our mobile app to transfer it into your savings. These are great ways to help build your savings without much effort and they'll limit the temptation to overspend when payday comes around. If you don't see it, you won't spend it!
What savings accounts does IAACU offer?
IAACU offers your standard
savings account,
but unfortunately, it doesn't earn a lot…in fact almost nothing! The average savings account interest rate today is only about 0.10%. If you want to increase your return on savings, IAACU also offers
Christmas
and
Vacation Club
accounts that have significantly higher interest rates. Because your interest also earns interest over time, you'll save even more with these accounts!
Looking ahead
Once you've set up a good savings fund, you could look to invest in a higher yield account such as a
Certificate of Deposit (CD)
. They often earn higher rates than savings accounts and are an option if you don't need fast access to your cash. Typically, the longer-term options will earn higher interest rates. So, the longer you can stash your money away, the more you will earn!
The recommended amount of money to have in savings is different for each person. But, as long as you keep making regular deposits and earn an attractive interest rate, you'll know that you're building a savings balance that is just right for you!