Purchasing a New Home with IAACU
Feb 15, 2023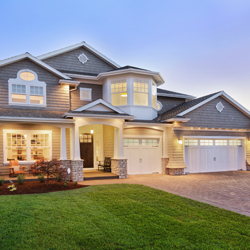 Homeownership may be one of the biggest financial decisions you will ever make, and for that reason, you need a team that will help you throughout the entire process.
Our mortgage team at IAACU works together to offer the best mortgage experience.
Personalized service
Fast response
Below average fees
You'll always know where your loan is and will always be able to contact us
Buying versus Renting – What are the differences?
When buying a home, you may choose a fixed interest rate; allowing your principal and interest payments to stay the same for the term of the loan. Homeownership also has the potential to build equity in your home.
Unlike a fixed interest rate on a mortgage, rent on a property may increase each year. The benefit of renting is that the landlord is responsible for the taxes and maintenance of the property.
Credit – Why is that word so important?
A credit score affects not only what your loan-to-value requirement is, but also what the interest rate will be and the amount of your monthly payments.
Down payment – What options do I have?
There are lots of available options, and it is best to start saving early. The recommended down-payment amount is 20% of the purchase price which will get you a loan with the best rate and terms. The rate with IAACU can be as low as 5%. We also help you to avoid costly PMI (Private Mortgage Insurance).
Don't forget to ask if you qualify for any grants. At IAACU we offer a Down Payment Plus program.
Choosing a lender – How do I know which one is right for me? Bigger is not always better!
Choosing the right lender may be difficult. Talk to friends and family, get recommendations, and choose one that is known and trusted to do what is best for you. Ask a prospective lender if your loan will be sold or serviced in-house. We service all of our loans in-house which means you will always be able to contact us about your loan.
Applying - What do I need?
At IAACU you can complete a mortgage application online, once submitted your loan officer will need proof of income including pay stubs, tax returns, and recent bank statements.
Closing
Closing will be roughly 45 days after your application. Locally your loan will be closed at IAACU. If you are not in the Bloomington-Normal area your loan will be closed at a local title company office, contracts will be signed and ownership will be transferred to you. The last step is leaving with your keys to your new home.


At IAA Credit Union we understand home loans can be overwhelming, but we are here to help. Check out our mortgage rates today!