Secured vs Unsecured Loans
Jan 25, 2021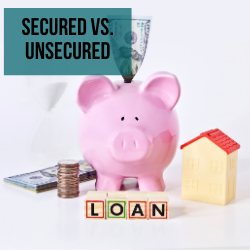 There are two different types of loans: secured loans and unsecured loans. Understanding the differences between the two is an important step in achieving financial literacy and can have a long-term effect on your financial health.
The basic difference between the two is that secured loans offer collateral and unsecured loans do not. This affects your interest rate, borrowing limit, and repayment terms.
At IAACU, we offer both types of loan, but there are pros and cons to each, and we have highlighted the differences for you here:
Secured
Secured loans are protected by an asset, such as a home or a car. The lender will hold the deed or title until the loan is paid in full. Other items that can also be used would include stocks, bonds, or personal property.
Secured loans are the most common way to borrow large amounts of money. A lender is only going to loan a large sum with a promise that it will be repaid. Putting your home on the line is a good way to make sure you'll do all you can to repay the loan.
Secured loans are not just for new purchases. Secured loans can also be home equity loans or home equity lines of credit. The amount you can borrow is based on the current value of your home minus the amount still owed. These loans use your home as collateral.
Some advantages of Secured Loans:
Lower Rates

Higher Borrowing Limits

Longer Repayment Terms
Unsecured Loan
Unsecured loans are the reverse of secured loans. They include things like credit cards, student loans, or personal loans. Because there is no asset to put up as collateral, lenders take more of a risk by making this loan and therefore charge higher interest rates.
If you don't have enough assets to use for a secured loan, you may still be able to borrow funds. An unsecured lender will judge you based on the five C's of credit:
Character – can include credit score, employment history, and references

Capacity – income and current debt

Capital – money in savings or investment accounts
Collateral – personal assets offered as collateral, like a home or car

Conditions – the terms of the loan
IAA Credit Union offers both personal loans and a variety of credit card options to meet your needs.
Making the Best Financial Decision
Knowing how and when to borrow money can be a challenge! But with the different types of loans available at IAACU, we'll have you covered when you need us.