How to Save $1,000 by Christmas
Aug 15, 2023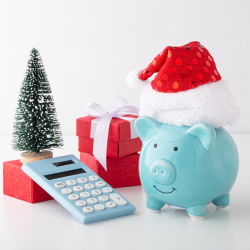 We're nearly four months away from the most wonderful time of the year. Begin your preparations today, and you can accumulate $1000 to use by December! Establishing a target and devising a plan are the keys to a stress-free holiday season.
Here are your 3 steps to saving $1,000 by Christmas time:
1. Split it up
To hit $1,000 by Christmas as of August, you'll need $250 per month in savings. If you can't swing that much this month, save what you can, and then divide the remaining amount by the number of months you have left.
2. Write Christmas in your budget
When you have $250 allotted in your budget, that money can sit in its new home, not to be spent. It's a fun way to save for the holiday season without missing out on bonfire, camping, or fall wardrobe expenses!
3. Adjust your spending
If you spend a bit too much on eating out every month, try to trim some dollars here and there by packing a lunch. In addition to this, cut $20 from going out, $15 from groceries, and $15 from clothes shopping. That's already $50 a month right there! If you are under-spending in other areas of your budget, rearrange your allotted income to maximize your monthly savings!
Side note: if you begin next year's $1,000 savings in week one, you only have to save $19.24 a week!
A little each paycheck can go a long way...
| Christmas Target... | $500 | $1,000 | $1,500 |
| --- | --- | --- | --- |
| Save Each Week | $9.62 | $19.24 | $28.85 |
| Save Every Two Weeks | $19.24 | $38.47 | $57.70 |
Saving for Christmas doesn't have to be an exhausting or stressful task. With our Christmas Club, you can transfer the funds and watch it grow. Our current rate of 3.00%APY on balance is up to $3,000! Just think: once you've hit your goal, you only have one thing to worry about... Shopping!