Don't Fall for SMS Scams: How to Secure Your Accounts
Sep 21, 2023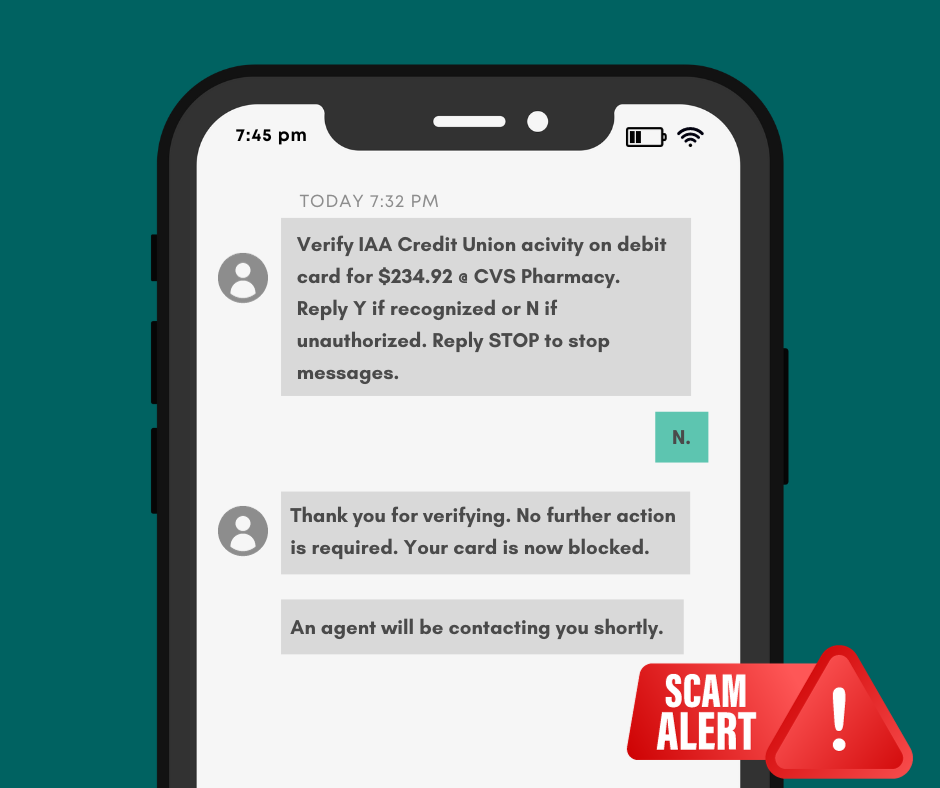 Have you received a text containing the following message? "Your account has been flagged for fraudulent activity. Take action now." It's natural to feel alarmed and feel inclined to click or call the number provided in the message, but exercise caution. Banks and credit unions have observed an increase in deceptive SMS communications. Financial institutions nationwide have alerted their customers about these types of fraudulent calls and text messages. In many instances, these messages falsely claim to be from the person's actual bank or credit union, causing individuals to panic. People then believe their bank account is at risk and immediate action is necessary to resolve the issue. However, this is just the beginning of an attempt to obtain their personal information and drain their accounts in seconds.
What can I do to protect myself?
Verify that there is an issue. If you receive a phone call or text message from your bank or credit union stating that your account has been compromised, end the call and initiate a return call. Locate your bank or credit union's contact number on their official website or a statement to ensure that you are contacting your legitimate financial institution and not a fraudulent entity.

Never give personal information to unsolicited callers. Regardless of whether your bank, credit union, cable provider, or utility company calls your home, never give your personal information to "verify" your identity. If it doesn't seem right, hang up and call the company back at the number you know is right.
Never give your multiple-factor code. The bad actor may attempt to convince you that this process is a means to reauthorize and regain access to your account. However, by giving them the number you receive via SMS, you are essentially surrendering complete control of your account.
Be cautious of links sent via text. The link could be a look-a-like site, mimicking the consumer's online banking portal. After entering the login information, the scammers then have access to your accounts online. Check the URL or visit your bank's website from another source–not by clicking a link sent via text.
Ignore instructions to text "STOP" or "NO" to prevent future texts. This is a common ploy by scammers to confirm they have a real, active phone number.
If you think your text message is real, be sure it's directed to a web address like "yourbank.com" or "yourbank.org", not "yourbank.otherwebsite.com".
Call the bank/credit union or check out their website. In many cases, when members inform their bank or credit union about receiving suspicious calls, the institution typically takes action by displaying a message on their website's homepage. If they have been specifically targeted by a scam, they might provide additional details or information regarding the incident.
With this information, we trust that you will be more vigilant regarding the fraudulent SMS scams that financial institutions such as IAA Credit Union are encountering among their members. By being aware, you can take necessary precautions to safeguard your accounts.
ORIGINAL PUBLISHED BY BBB ADAPTED BY IAACU