Tips for Healthy Money Habits
Feb 9, 2022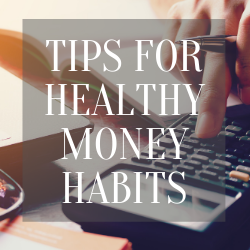 Making a goal and taking the steps to make it a reality takes tenacity, commitment, and a positive "Can Do" attitude. Making a change is not always easy, and bad budgeting habits can be hard to break! No matter your situation, setting goals to keep positive change going into 2022 will help to keep you on the right track with your finances!
How can you continue to think positive about your financial situation in the coming year? Keep these tips in mind when planning out your goals for 2022 and beyond.
Take some time to write down your goals! Having a tangible list that you can build on and change as necessary can help you keep yourself motivated!
Look at all your debt laid out in one place. Make a spreadsheet or simply write it down in a notebook! If your financial situation has changed over the past year, make necessary changes and stay on top of it!
Revisit your budget often! Whether it be monthly or whatever time frame works best for you, it is important to keep an eye on where your money is going! If one credit card is paid off that can allow more money to be put towards other debt to pay it down faster! Consider looking into balance transfer opportunities to consolidate debt! Take advantage of IAACU's balance transfer offer thru February 28th, 2022.

Setting smaller goals along the way and setting deadlines can help break those larger financial goals up and make them feel more achievable. Smaller goals over time make larger more daunting tasks more manageable. Consider opening a Club Account with IAA! Our Christmas Club, Vacation Club, and Savers Club accounts are all great options to put away money throughout the year while keeping a budget that allows you to reach your goals!
Be positive and realistic. Having a goal that is attainable as well as challenging can be instrumental in creating a positive attitude around financial topics. Be honest with yourself about how much of your budget you can spend. Is a large enough part of your budget dedicated to paying down debt or could you increase it to pay it down faster? Regardless, be sure your goals fit you!

Keep Track of Your Progress. Researchers have noted that making a goal measurable will help it stick. Keeping track of your progress, and watching your payoff balance shrink, can help you stay focused and motivated. As you "check off" milestones and "to-do's," you will see your healthier financial future getting closer and closer and be even more inspired. IAACU's online banking tool is a convenient way to keep track of your loan balances so you can always be on top of your budget!
Celebrate Milestones. Achieving a financial goal is cause for celebration.  Take time to observe your successes along the way. No matter how big or small your successes, you should be proud of your progress!
Eliminating debt, learning new spending habits, and building savings are choices that can change your life. They can affect your overall well-being by reducing stress levels. Whether you have been on your financial wellness journey for a while or you've just started, keep these tips in mind to even further reinforce good habits in 2022.